Queenstown – it's on your bucket list right? If it isn't it will be after reading our Queenstown travel guide and you will almost certainly have a better understanding of what to do in Queenstown. This small town at the bottom of New Zealand's South Island is full of character and adventure for all ages. But with so many options available to you it can be hard to decide what to do in Queenstown.

The lists of what to do online are endless as it is the town that is full of the most adrenaline-filled activities and a town that is surrounded by the most stunning mountainous scenery you will see on the South Island. It can't be denied that its proximity to the mountains is what still attracts people back time and time again.

If you want to see how Queenstown can fit into a longer itinerary check out our 10 day South Island itinerary or our 14 day adventure itinerary of both islands.

After our recent visit to Queenstown, we discuss in this article:
How to make the most of a weekend in Queenstown;
How many days to stay in Queenstown;
What to do in Queenstown, active and the not so active;
Where to stay and what surrounding areas are worth exploring.
If possible we suggest staying in Queenstown no more than two nights and three days, that amount of time is probably all you need in this town and if you are only ever going to visit Queenstown once this is the itinerary you will need!
But first, let's discuss logistics, your transport options and where to stay in Queenstown:

Arrival into Queenstown:

If you are arriving by air the airport is only a ten minute drive from the town centre. A taxi would be the easiest way to reach your accommodation as all the airport shuttle services charge per person – and as it is only a ten-minute journey the taxi option is your most affordable option.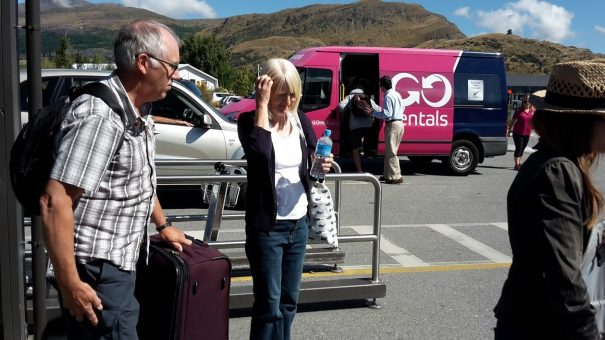 You really do not need a hire car in Queenstown during your first day or two here, parking in Queenstown has become a bit of a nightmare and most of the activities suppliers offer a transfer service to their activities. This is because you will quickly discover that most of the activities in Queenstown are based on the outskirts of the town itself – as that is where the best scenery is!
The town itself is very compact, to walk from one end to another just takes a matter of minutes so you really don't need to get in a taxi or drive to find a good place for dinner, as long as you don't stay too far out the town centre.

Where to Stay in Queenstown:

It is best to stay as close to the town centre as possible, but not exactly in it. (the nightlife in Queenstown is pretty lively!) Anything within a ten-minute walk of Shotover Street is going to your best option. That might mean a little walk up a hill at the end of your day but it won't exactly be a long one.
My parents have stayed at Alexis Motel Apartments numerous times as it is a good budget option for those who like to enjoy a clean apartment, with a view which is a short walk from the town centre. You probably don't want to stay any further out of the town then this place – else you would probably require a rental car!

If you are more budget-conscious (and let's face it Queenstown is expensive) then we love Base Backpackers (great for the young folk) or the YHA (which is also great for families) located on the waterfront. Again you probably don't want to stay any further out of the town than the YHA.

A more luxurious option could be Queenstown House (for those who love a B&B stay) or the Queenstown Park Boutique Hotel (if you prefer to stay in a hotel). In our experience staying on the waterfront means an overpriced hotel that doesn't care for its customers – there is a lot of that in Queenstown!

If you want to look for a more alternative stay then we always suggest a holiday home via AirBnB or Bookabach – often the homes on Bookabach are not homes found on AirBnB – this is a website the locals use and it is well trusted here in NZ.

Now with the logistics out of the way, let's get on with the weekend!

Friday:

Morning:

After you have reached your accommodation and checked in we suggest getting acquainted with the town centre, it is worth using this time to head out and get your bearings. Wonder the streets, explore the waterfront, the Queenstown gardens (play frisbee golf if you wish) and check out your dinner options for the evening.
The town centre can be busy and overwhelmingly full with people (if your visiting in high season) but it is still worth a morning or afternoon of your time to explore and soak up the atmosphere! Within moments you will feel like your on vacation.
Afternoon: Skippers Canyon Jet Boat Tour (either the 12.30pm or 3.30pm departure)

The best way to see the Queenstown region is by getting out on a jet boat tour. Did you know the jet boat was actually invented in NZ? And that is why the Kiwis love them, Queenstown in particular. There will be heaps of different jet boat tours you can choose from in Queenstown but we believe The Skippers Canyon Tour is the best Queenstown has to offer.
In fact, we might go as far as to say that it is the best we have ever experienced during our 5 years in NZ! And that is because of its location, getting there is part of the fun.

To get there you travel halfway up Coronet Peak (the ski resort is up here) and you get time to soak up the most spectacular views of the valley and beyond.
It is here the tour really starts as you start to get acquainted with your driver before driving along Skippers Road, most commonly know as Skippers Canyon. Our driver told us that it is often referred to as NZ most dangerous road but he assured us that it's more dangerous driving around Queenstown town centre with the tourists than this road is!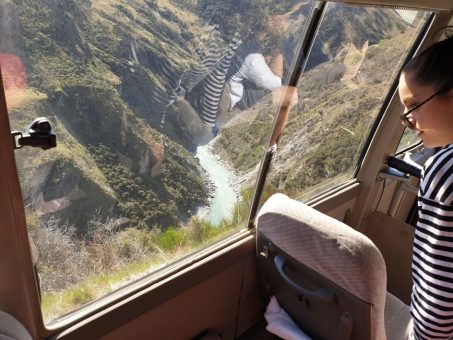 We had read about this road many times and it really does have to been seen to be believed the 40-minute journey to their base was quite an experience in itself! And jet boating? Even more thrilling than we ever imagined – check out our little video for a taster!
Evening:

You may have already sussed out where you are going to eat in Queenstown when you explored the town centre earlier that day. But trust as after an adrenaline-filled afternoon you will want to go somewhere with high energy and a good vibe.
We love Pog Mahones Irish bar. Yes, we are a little bit biased because we love Guinness but the vibe is great, the staff are friendly and the location is very central. They do have a restaurant upstairs which is a bit quieter.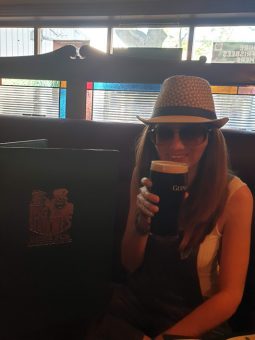 You may also of heard about Fergburger – Queenstown most famous eatery often referred to as the best burgers in NZ. We last went in 2009 so we can't really make an up to date judgement but if you do decide to check it out we suggest going early. And go as early as possible to beat the queues don't even think about going if it's after 5 o'clock you will be there for hours. The queues are ridiculous!

Our Top Tip: Do check out websites such as Book Me, Grabone or First Table for dining deals. The competition in Queenstown to get customers through their door is high so offers are aplenty. Take advantage of this and save yourself a few dollars – and no you don't need a printer to claim your voucher!

Saturday:

With this being your first full day in Queenstown it will allow you to get out and about further than you ever thought was possible. Your options on this day really do come down to your personal interests. If you are an adrenaline junkie please check out the 10 most extreme activities you can do in Queenstown article.

If being in Queenstown for the scenery is more your thing then we suggest getting high! It really is the best way to see the vast scenery this region has to offer. So that might mean a paragliding activity, bungy jumping or just a trip up the gondola (check out the view we had during dinner up the Gondola that we had up with my parents in 2016, it was a great evening out!)
You might also choose to visit Milford Sound on this day. If you are going to visit Milford Sound we suggest a scenic flight to get their, don't even bother with a bus tour – you will spend more time on the bus (over 10 hours in total) and that's not a great way to spend your limited amount of time in Queenstown. We suggest going with Southern Discoveries – they are the best in the business.

If you are more of a foodie (and love wine!) we suggest hiring a bike and explore the Gibbston Valley. You can take a hop on hop off bus to get to that region if you prefer but with a bike, you will be able to go at your own pace and explore some interesting spots along the way.
And don't forget to check out Grabone for your evening meal deals!
Sunday:

On your final day in Queenstown is when we suggest a car rental for your time in Queenstown. This will allow you to get to places more affordably, on your own schedule and not relying on the activity suppliers to take you to the outer regions of Queenstown.

If you are continuing your NZ itinerary the following day this would also work in your favour as the next day you might want to head to Te Anau and Milford Sound like we did or head in the Franz Josef and/or Mt Cook direction. Whichever direction you are heading in it pays to pick up the car the day before, as you can head off early the next day and beat the crowds – which is worth it as the roads can get busy all year round.

One drive that we suggest you must do in Queenstown is the drive to Glenorchy. Glenorchy is a small town located at the top of Lake Wakatipu, it is 45 minutes from Queenstown, but you will need to allow a lot longer to soak up the views along the road, there are so many pull in stops with a new view around every corner.
Once in Glenorchy we suggest heading further north to either Lake Sylvan or Lake Diamond – its a good lunchtime spot before heading back to Queenstown. This drive is often referred to as to one of the best drives in NZ and we can vouch for that, we had so much fun.
Your final afternoon in Queenstown:

There is no better way to finish your weekend in Queenstown by relaxing at Salt Float Spa Queenstown. We recently finished the best weekend we ever had in Queenstown by enjoying a relaxing hour in one of their float pods. Queenstown can appear to be quite hectic so it is worth doing your body a favour and really hitting the reset button, your mind body and soul will thank you for it!

And if a float pod is not your thing, they also offer massages 🙂 We have floated in NZ quite a few times now (we might be calling it a hobby at this point!) and this place offered the best relaxation room we have ever seen. We certainly wanted to stay for longer as we felt so relaxed!

We hope that whatever you get up to during your time in Queenstown you remember to take a bit of time for yourself. As it is very easy in Queenstown to empty your wallets on adrenaline-filled experiences and not activities that are actually good for your body and soul!
Did you enjoy this article? Leave a comment below on what your favourite activity is in Queenstown.
And don't forget, we also have comprehensive guides on most destinations around NZ check out our travel guides for more articles like this.