If you are heading down the east coast of the South Island then we think visiting the Moeraki Boulders & Moeraki village (which such a beautiful small fishing village) should be on everyone's bucket list. Before we dive into our travel guide of the Moeraki Boulders lets start by answering the question: Where are the Moeraki Boulders?
Moeraki is located between Christchurch (289 km away) and Dunedin (76 km away) so it can serve for a good lunchtime stopover or an overnight stay. We guarantee you will leave the area with a smile on your face and feeling relaxed! It certainly had that effect on us. Here is our travel guide to Moeraki.
This article includes:
Tips for when you are visiting the Moeraki Boulders;
Places to stop for a spot of lunch;
Moeraki accommodation options.

Tips on visiting the Moeraki Boulders:

This, of course, is the main attraction and it is important to get the parking spot right as well as the time of day right to visit them at their full glory. The Moeraki Boulder tide times vary each day, you want to visit them at low tide, at high tide you can still see a few of them but not many and you can hardly step along the beach without getting wet feet!

The Moeraki Boulders are free to visit, it's on a public beach and the car park is free. If you put in Moeraki Boulders into Google maps just make sure you go over the train tracks and continue straight down the road towards the sea. Do not in any circumstance turn left straight after the train tracks. That is the road that leads to the cafe, gift shop, and toilets. It is there where the tourist trap lies! You will see this sign: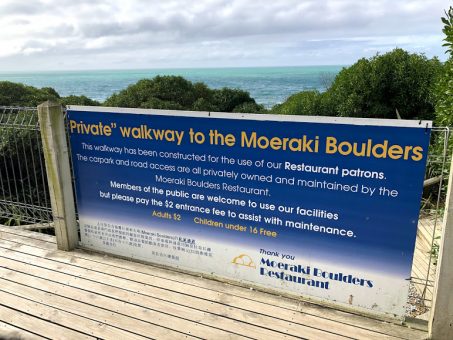 The sign is misleading, it leads people to believe that you have to pay a $2 fee to enter the beach, when in fact its a donation (so NOT mandatory). The cafe put this donation box in to maintain the path that leads down onto the beach, the path is built on private land.
The number of people we saw putting money in the donation box without even thinking about it when we visited was insane! I am not sure how much it costs to maintain a path but it is clear they are making a profit from tourists who think the beach access isn't free!
So please don't be fooled by the cafes naughtiness and go straight over the railway track and park at the car park at the bottom of the hill, the Moeraki Boulders are a ten-minute walk along the beach 🙂

Moeraki Village is a great lunchtime stop:

If you reach Moeraki at lunchtime you are in luck! It is worth the detour to travel 2km down the road to Moeraki village itself. Moeraki village is home to Fleurs, often referred to as the best seafood restaurant on the South Island.
If you visit early and on a sunny day you won't require a reservation as you can grab a table outside, but if it certainly is on your agenda, do call to book ahead. We ate here for Isaac's birthday and it was spectacular!
Other good lunchtime ideas are visiting the Crawfish Shack or the Moeraki Tavern – which are certainly more budget-friendly options. It is where locals eat – good vibes all around!
Moeraki Boulder Accommodation – Where to stay in Moeraki:

If you make your visit an overnight stay then we suggest checking out Bookabach, this website is well trusted in NZ, the kiwis love it! Or another great alternative website is booking.com they have some beautiful accommodation listed in Moeraki on their website.
Not a lot of people choose to stay in the village but we would like to encourage you to be a little different – Moeraki really is a very relaxing village, off the beaten track and is a true representation of an untouched local village. We guarantee you will get a great kiwi hospitality experience!
Would you like to see how Moeraki can fit into a larger self-drive itinerary of NZ? Check out our 30-day itinerary here.