Now we have spent a considerable amount of time in Wellington we finally feel comfortable to write this post. When we first arrived we pretty much didn't know anything about Wellington, except that it was windy and that the city has a great museum. Which by the way, both are true.
If you are planning a weekend in Wellington anytime soon and are on a budget this weekend itinerary should be just what you are looking for!
Friday – Welcome to New Zealand's coolest little capital!
If you want to stay somewhere central, safe, clean and on budget Base Backpackers should be your base for the weekend (no pun intended, honest!) Located just off Courtney Place you won't have to go far on your first night to grab some budget eats and some happy hour deals!
If you arrive by coach the coach stops at Courtney Place so you won't have far to walk, a taxi from the airport should set you back $30 or less if you use Uber and Super Shuttle also offer shared transfers from the airport.
If you are arriving in your hire car message your accommodation provider prior to arrival about parking instructions. Parking is very limited in Wellington and if you don't park in the right spot it can be quite costly too!
Friday nights should be spent discovering all that Courtney Place has to offer. Pretty much every bar you pass early on a Friday will be offering a happy hour deal of some kind and the city has an excellent range of microbreweries. Wellingtonian's love their craft beers so much you can even pick up a "Beer Map" from the tourist information centre, it the ultimate pub crawl without even trying too hard! Our favorite has to be The Malthouse for some exceptional micro-brewed beer, at around 6 pm they serve free nibbles for the whole bar! 
If you want to venture a little further then Cuba Street would be a great stop, if you can find the Wellington Night Market you are in for a treat, budget eating at its best. The benefit of staying so close to Courtney Place is that you are so close to everything, Wellington is a very walkable city.
Saturday – Explore the best bits of Wellington.
Base Backpackers is great as it is simply a stone throws walk away from Mt Victoria, the best lookout in the city. We suggest walking along Oriental Parade and joining the path this way as it certainly a less steep of a climb and much more scenic as you walk along the seafront.
If you want to view the city from another angle we suggest taking the Cable Car, at the top, you will find The Wellington Botanical Gardens (worth a stroll) and The Cable Car Museum (free entry) we surprisingly spent an hour here – it very interactive and very informative!
Do check out our video of our time in Wellington – we love it here!
From here you can visit Zealandia as they offer free shuttle transfer's to the countries best eco-sanctuary.  It is actually a fenced off eco-sanctuary where they take care of all things native, think Jurassic Park fences and you're not far off! 
Allow at least two hours to explore the valley forest, Zealandia are doing a great work on their conversation project and your entrance fee goes towards maintaining the valley where you can witness remarkable native species of birds, reptiles, and insects. It really is an insightful and educating visit!
If you have time after once you return down the Cable Car turn left for about 1km and here you will reach the Parliament Buildings, they are free to enter. Here you can visit the free visitor centre, take part in a guided tour of the government buildings and even sit in the public gallery as the MP's debate the latest things on their agenda. It is a great place to learn all about NZ's democratic processes.
The Parliament Buildings are very close to waterfront – a great alternative way to walk back to Courtney Place. Wellington without a doubt has one of the best waterfront's in NZ, we walk it almost every week, it is fully pedestrianized and so beautiful!
For dinner and drinks, we suggest the waterfront, there are plenty of bars and restaurants. We love The Foxglove for its outside decked seating and delicious food. If you want somewhere closer to your accommodation but still on the waterfront then we suggest St John's Bar and Restaurant, it is a bit more casual than The Foxglove and also has a great outside seating area.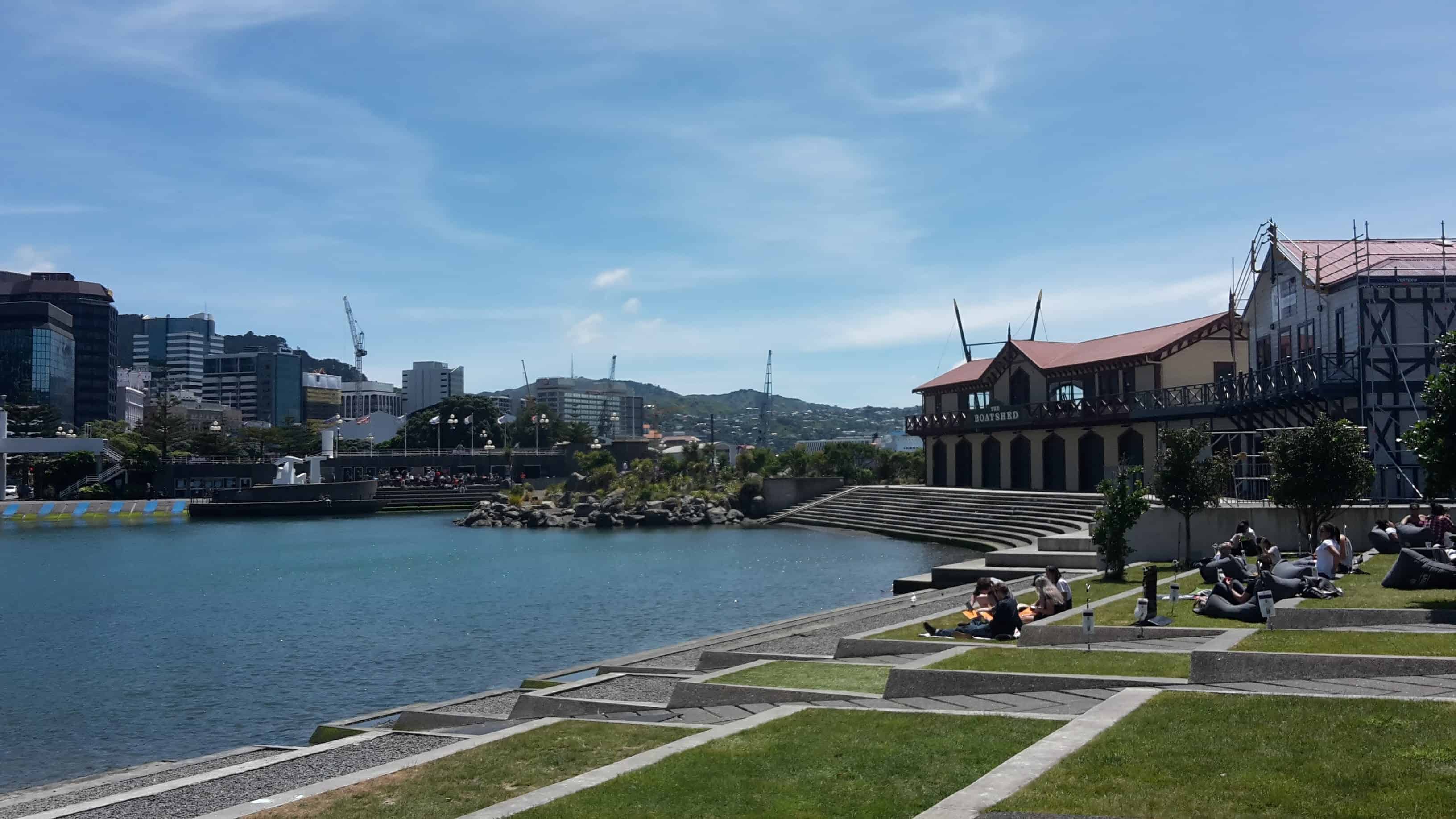 Sunday: Discover More, Get Further.
No visit to Wellington is complete without a visit to Te Papa Museum, The Museum of New Zealand. Be warned, you could literally spend hours here though, allow at least 2 hours to really get a feel of it, the coffee on the 4th floor (there is also a cafe on the ground floor but the cafe on the 4th floor is more comfortable and quieter) is pretty good as well.
If you are a Hobbit fan then Weta Cave should be a must, here you can see exhibits of props from all of the Lord of Ring films plus watch a free documentary about the props. The Weta Cave Workshop Tour  is also worth the extra expense. Here you can really learn the behind the scenes of how every element small or large from the films actually got made, plus you can have the chance to touch/hold some of the real props used in the films!
For dinner, The Bresolin on Wills Street is perfect if you want an early dinner, especially if you have to leave Wellington on this night. They offer $20 roast's after 5 pm (be on time, it is popular!) they really are the best that we have found in town and trust us we have eaten loads of them – we are British after all!
The Coffee – Don't forget your pit stops.
To Wellingtonians coffee is everything. Before I arrived, I did not like coffee, now I drink it almost every day. However, believe us it is still possible to get a bad coffee in Wellington our top places if you would like to seek them out are, Aro Café in Aro Valley, Havana Coffee, Prefab and Peoples Coffee. They are also great places to get a spot of lunch.
For more reccommendations of what to see and do around Wellington check out this city guide below. We love Wellington and we hope you do too!
Do you have a tip to share from your trip to Wellington? Feel free to share them in the comments below!