Now we have been in Wellington a while we thought it was about time to tell you all how this fantastic this city is! It is packed with entertaining things to do, with many of these available at a small cost or even for free (who doesn't love free!). Below in no particular order is a list of the best free things to do during a trip to New Zealand's capital city and a little video to go along with it!

1 – Te Papa Museum:
Te Papa is a must-see during your Wellington visit. It is the national museum of New Zealand and has been recognised as a world-leading visitor-focused experience thanks to its many interactive features. There are permanent exhibitions that depict New Zealand's amazing geology and geography; the historical lives of the country's indigenous people, the Maoris; and the unique wildlife of the islands. There are also short-term exhibitions focusing on historical and geographical events, including the earthquakes that have occurred on these volcanic islands. Guided tours are available; however, with the amount of interactive material available, it can be better to spend hours moving through the museum at your own speed. Allow a day, or come back for a second visit – you will need it!
2 – Weta Cave
Weta Workshop is a world-leading design and effects facility used by the world's creative industry. The company started in a room in a flat in Wellington, where the founders hoped to provide models and prop work for the home film market in New Zealand. This is now a multi-million-dollar business associated with a startling list of movies, including the amazing creations in The Lord of the Rings trilogy, The Hobbit, and the modern-day adventures of the Thunderbirds.
The Weta Cave Shop is a focal point of the Weta Studio Tours. Here you can wander through a small museum, watch a documentary about the company and – best of all – it is free!
If you want to go for the full experience, you can pay for several tour levels and fill your bags with memorabilia from the shop. Selfies with sculptures and prop replicas can also be taken, providing great memories! The tours do incur a cost, but they represent good value for money.
3 – Plane Spotting!
Yes, that is right, how about a bit of plane spotting! Wellington's airport is in a really unique spot. Starting its life as simple, grassy runway in 1928 in eventually became a fully functioning airport in 1935. It is built on reclaimed land and over 180 houses in the area had to be relocated to make room for it! Due to the valleys either side it really was the only place for it! The main road to busy neighborhoods such as Miramar and Lyall Bay run right along side it meaning you can get real close to the planes that land here. It is quite an exhilarating experience!
4 – Walk along the Wellington Waterfront
The Wellington waterfront walk begins really just outside the train station. It really is exceptional and is considered one of the best waterfront walks in the world. The city council manages the waterfront and does a great job. They actively promote the heritage buildings, stages public events, supports commercial development, manages properties, and provides general maintenance, security, and cleaning.
Well before European settlement, this area of Wellington was a centre of local Maori life. The first wharves were built in 1840 with the arrival of the settlers; more recently, land has been reclaimed to form the modern-day waterfront area that is now a key recreational, social and cultural hub of the capital city. Wandering through this coastal area is full of surprises, relaxing and free!
Restaurants, cafes and shops abound, which are great to browse around. The waterfront is also host to many city events throughout the year, including Waitangi Day celebrations, Chinese New Year and Guy Fawkes night. For atmosphere, one of the best times to visit Wellington is on New Year's Eve as it becomes the first city worldwide – along with Auckland – to welcome in the New Year.
The waterfront is also a great place to sit and people watch. If you are looking for a cheap way to spend the day, there are lots of areas and decking along the quays where you can sit and think – or just sit! The walk finishes at the stunning Oriental Parade, Wellington's best beach!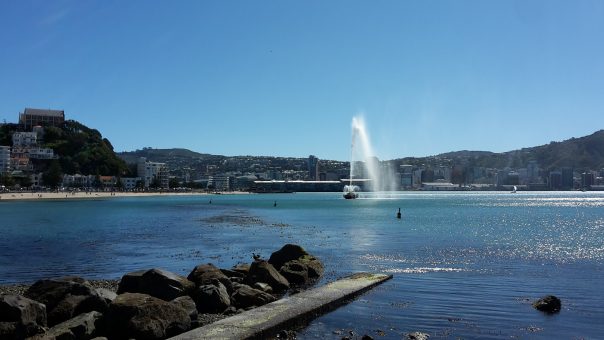 5 – Walk Mount Victoria
Mount Victoria rises to an altitude of almost 200 metres and is situated immediately to the east of the central area of Wellington. Offering an adventure area on your doorstep, there are multiple trails all over the hill that you can explore by foot or bike; alternatively, there is a loop walk of 4.7km that takes about two and a half hours to complete on foot. Anyone of average fitness can safely undertake this walk, which has a common start/finish point. All the walks on Mount Victoria offer amazing views of the city and the harbour. Top Tip: If your feeling lazy you can drive to the top – but don't cheat!
6 – Visit Cuba Street
This is often called New Zealand's coolest street and offers an inner city slice of bohemia. Upon our first day here in Wellington we went to check it out! It strangely has been registered as a historic area since 1995, but it is pretty cool! There are hotels, restaurants and bars and the bustling street is full of creative quirks, buskers, art galleries, graffiti, affordable bric-a-brac and exhibitions – there is literally something for everyone. Browsing is free and you could pick up some truly unique items if you are prepared to spend a little money.
7 – Tour of Parliament Buildings
New Zealand's parliament sits in the Parliament Buildings in Wellington. There is a public gallery, a visitors' centre, and exhibitions of some of New Zealand's established and newest artists. The public gallery is open whenever parliament meets, with sitting in on the decision-making process of a democratic country providing a thought-provoking experience. Guided tours can be arranged; in addition, for those who can't make it to Wellington or who want to relive the experience of their visit, there is a virtual tour available on the official parliament website. We are yet to experience this, but a good rainy day activity none the less.
8 – Mountain Biking
Wellington's hilly landscape is the perfect environment for mountain biking enthusiasts. It has been estimated that there are around 350km of mountain bike trails, making this a must if you have your bike with you this. You can spend days following the trails at your own pace. If you are a biker, this is without a doubt one of the best free things to do in Wellington.
9 – The Botanical Gardens
Wellington Botanic Garden is situated centrally within the city and hosts 25 hectares of completely unique landscaping and plants. It was established in 1868 and initially managed by the New Zealand Institute, with the Wellington City Council taking over in 1891. The gardens are open from dawn until dusk each day of the year and entry is free, with guided tours costing $4 per person.
10 – Watch War Memorial
Wellington's National War Memorial is not on the usual's tourist's radar but well worth a visit. Every day at 5pm a Last Post ceremony is conducted on the forecourt of the National War Memorial. The service lasts for 7 minutes and any one can take part. A minutes silence is also acknowledged in respect for the soldiers who served in the First World War. The ceremony is longer on a Sunday and the building is open daily from 9am – 5pm and entry is free. 🙂
So there you have it a list of the best 10 free things to do in Wellington, do check out our Weekend in Wellington on a budget article for more tips on what to see and where to stay when you visit this beautiful city!