Rotorua in our opinion is giving Queenstown a run for its money! The things to do in Rotorua list has become extensive! Rotorua has become the North Island's top destination for adrenaline, thrill-seeking, adventurous individuals something that New Zealand is famously renowned for. This winter we had a weekend in Rotorua with time to kill put together a list of top activities and cool things to do in Rotorua over a weekend or 2-3 day period.
Visiting Rotorua is a New Zealand must do, but be warned it stinks of eggs 😛
Check out the little video we put together of our time in Rotorua!
Day One:
Morning:
What attracts people to Rotorua it's vast array of geysers, craters and volcanic activity that the city has the city itself is often described as a geothermal wonderland. Depending on what time you arrive we suggest your first stop should be a visit to Te Puia, you can truly and quickly get a sense of what Rotorua is all about. In your ticket entry, you can learn about Maori culture, see a Haka performance in an authentic marae, see craters up close, view a kiwi, try your hand at arts and crafts and also watch the famous Pohutu geyser erupt every 20 minutes without fail.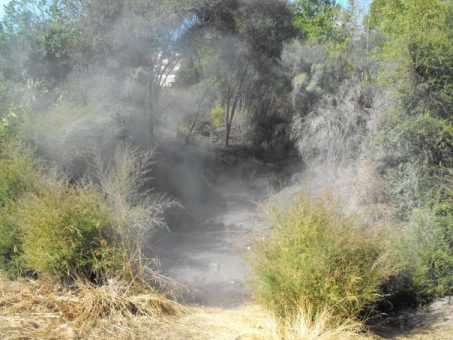 What we loved: Sure, Rotorua has a lot of geothermal centres to visit but this one has everything you would need for all ages, it's great for kids, wheelchair users and couples. The facilities are top of the range and that is what puts it a level above the rest.
Top Tip: Beat the crowds, go early. We were off for a coffee and a bagel at Ciabatta Bakery by 11:30 am – refueling for an afternoon with Off Road NZ!
Cost: Day passes starts at $46.80 for an adult and $23.40 for a child.
Afternoon:
An afternoon of adventure was then upon us! We had never been off roading before and we didn't quite know what to expect. Ian and his wife are originally from England and moved here in 2002, they brought the already established business and built it into something extra special!
Here you can go karting, have a thrilling ride on their 4×4 Monster truck and embark on a self-driving 4WD Bush Safari adventure all on the grounds of the farm. They also offer corporate trade events – clay bird shooting, team building challenges, archery and camping. You could easily spend a day here doing all the different activities they have to offer. Plus it is just that far out of Rotorua (but not too far!) that you really get to enjoy the countryside of NZ. They truly do have a stunning setting!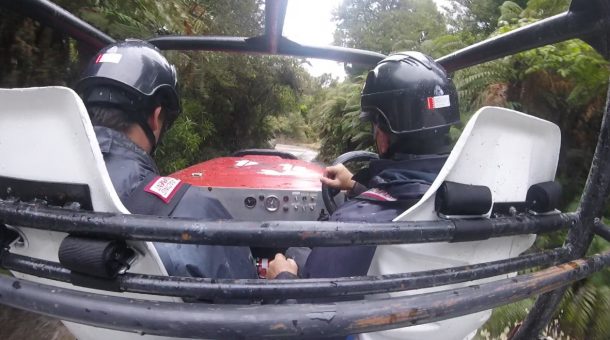 What we loved: The team at Off Road NZ are exceptional. You can see they love what they do, they are professional, calm (when you may not be!) and are safety conscious. 4WD Bush Safari is by far their best product, it is thrilling seeking at it's best!
Top Tip: If you have a bad weather day don't be put off by the rain, it adds to the adventure!
Cost: The Ultimatum package (all 3) $209 per adult & $109 for a child. There are cheaper packages available for the more budget-conscious travellers but we recommend all three of their activities as this really is a place you don't want to leave in a hurry!
Evening:
A must for any visitor to New Zealand is to experience and learn about the Maori culture. The best way to do this is by partaking in an evening cultural show in Rotorua. Mitai Maori village offers learning in a fun and interactive way that is fun for all the family. First, you enjoy a welcoming drink as you get to know the people around you. After a brief introduction of how the evening is going to flow you go on an exploration of the grounds, see a Waka (war canoe) sail down the river, witness the rising of the food from the Hangi and watch a cultural performance. After your meal, you then get a chance to go out again and view glow worms. It really is an evening that is full of variety.
What we loved: Seeing the tribe sail down the river on a Waka as the sun is just going down is pretty special. As you travel around NZ you will see many a display Waka's so seeing one in action really steps you back in time. The food was incredible too!
Top Tip: Eat a little snack before you go, we arrived at 5:30pm and after all the activities didn't eat until just before 7:30pm – we were starving! We probably enjoyed the meal even more so but a small snack at 5pm would be a great idea to tide you over!
Cost: $116 per adult & $57.50 for a child (aged 10- 15 years) & $22.50 for child 5-9 years of age. Under 5's are free.
---
Top Tip:
This is our top tip for the evening if you are a more budget conscious traveller but still want to experience authentic Maori hangi. Kiwi Kai on Amohau St in central Rotorua, is locally owned and you will often find the owner working behind the counter as well. Their Hangi's are available to takeaway or eat in. Served in a large tin foil takeaway tray to keep hot the portions are enough to feed the whole family! We spent $27 on two Hangi's, (one pork & one lamb) – and some fried bread (Trust me you will love fried bread) We even had enough for lunch the next day!
---
Day Two:
Morning:
On Day two we were up early to seize the day and try our hand at ziplining! Canopy Tours offers 3 hours of "hanging from the trees" fun for all the family. They have six zipline's in total and with their small groups it means you aren't waiting long for your next go. Even when you are waiting there is good conversation to be had and a view of the tree tops which is just spectacular.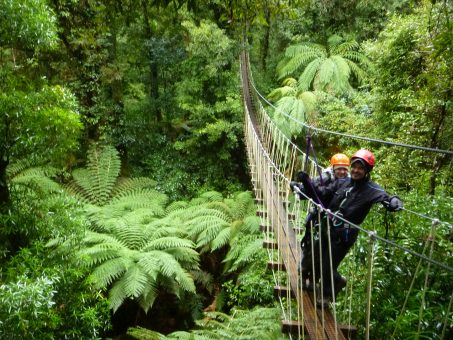 What we loved: What we loved the most about this was the fact that the tour actually runs a conservation project to protect the native plants and birds that live in the forest and with your contribution to the tour (your tour fee) you are. You learn about this along the adventure, it was actually something unexpected that we didn't know about until we arrived. It just makes it that much more special!
Top Tip: Take a snack bar and if you can a small carton of juice, the team at Canopy Tours are very environmentally conscious (as they should be) and wouldn't let us take our large water bottle with us. Safe to say half way through with all the adrenaline kicking through me I was feeling a little withdrawn.
Cost: $139 per adult & $95 per child.
Afternoon:
When you meet any local in Rotorua they will tell you to visit the Redwoods forest and we guarantee you they will be avid mountain bikers, almost everyone in Rotorua is. The Redwoods is worth exploring even if you don't mountain bike there are walks from 15 minutes to 3 hours, but mountain biking is really the best way to explore the forest, their tracks are internationally known and possibly even better than Queenstown tracks! (Yes I said it!)
What we loved: The Redwoods are only 2km outside the city centre so you don't have to go far to reach this beautiful spot. You really don't feel like your in a city when you are here and everyone you bump into is so happy and relaxed, there something special about a place when you know a local visit's the place all the time. Then you know it is good!
Top Tip: Take a photo of the map, you will get lost! Ask a local about what tracks are best and stalk them if needed! Also park away from the visitor centre all the best tracks start further down the road Long Mile Road – the hill to climb isn't that big – honest!
Cost: Mountain biking is a free thing to do in Rotorua if you bring your own bike. You can hire a bike at Mountain Bike Rotorua (who also offer guided tours of the tracks) for $60 for 2 hours or $90 for half day/4 hours.
Evening:
Built high above Rotorua is Rotorua's top activity park. The Gondola is safe & fun for all the family, the view of the lake is incredible. There is so much to do up here you may need to arrive little earlier to explore the nature trails, the Luge rides, do a spot of wine tasting at volcanic hills (more on that below!) it is like a mini theme park on a hill! The meal is a buffet, don't be put off the food is incredible!
What we loved: The variety of food is outstanding! Seafood, fish, steak, salads, local vegetables, and the most amazing variety of desserts you will ever come across. Basically if you fancy it they will have it!
Top Tip: Arrive early, go hungry! Queues for the Gondola at the bottom can be quite lengthy (those who already have tickets have to queue with everyone else) which can cause delays getting to the top. We recommend coming an hour and half before your dinner, allowing time in the queue and few go's on each of the Luge tracks to build up your appetite!
Cost: Gondola & Dinner packages are the most reasonable starting at $65 pp ($39 for a child)
---
Top Tip:
For those want to go up the Gondola but don't fancy a sit-down meal or for those who have already eaten then we suggest a pit stop at Volcanic Hills, located behind the gift shop at the top of the Gondola be sure not to miss it this is the true hidden gem of Rotorua. This truly was for us the highlight of our weekend. Owned by Sean & Jo Beer (no beer here!) you can buy 5 wine tastings for $14 each with a difference.
When we have visited wineries in the past you purchase the wine tastings and get given a card with all the information of the wines you are trying, you may if you're lucky get a brief introduction into the wine you are drinking. At Volcanic Hill's Sean and his team take the time to sit with you, talk to you about the wine he is serving you. One at a time. There is no rushing here, one by one the wines come out along with some really great conversation. Expect to leave hours later feeling relaxed, and maybe a little tipsy! And you have just made a friend.
Sean's approach to customer service and how he treats you is something very rare and this is why it is a hidden gem for Rotorua, you are truly missing out if you don't make time for this!
---
Day Three:
Morning:
Who doesn't want to go home on a high? This is one of the coolest things to do in Rotorua if you have time before hitting the road we recommend white water rafting with Wet n Wild. The Kaituna river is Rotorua's best white water rapid offering and it doesn't disappoint as it is also home to the world's highest commercially rafted waterfall.The 45 minute trip gave Isaac (myself a little too scared of water!) a thrilling experience!
What we loved: The rafting with Wet n Wild was awesome, the adrenaline was going all the time especially over the drops – will I fall out? Pete and the team we're entertaining and made the whole experience fun and personal. This activity was a great bonding experience too as teamwork was required to keep the boat from smashing into walls, trees and capsizing!
Top Tip: Go to the toilet before hand, at times it's pretty intense – don't be that guy who shits his pants.
Cost: A very reasonable $99 for rafting on the Kaituna, Wet n Wild also offer rafting trips on other rivers in the area.
Top Tip: If you need to find somewhere to stay when you visit then we highly recommend booking your accommodation in advance, it's important not to under estimate how busy NZ gets between September and March each year. We suggest checking out BookaBach (private homes often not found on AirBnB) or this link to find out instant availability of the motels/hotels/guest houses in the area.
If you want to read more about travelling in NZ do check out our Travel Map, there are some more articles on tips on travel in Rotorua and also itinerary ideas to ensure you get the most out of your time in NZ. And why not, you only live once!