After spending almost a month in the wider Christchurch region in our motorhome we have truly discovered how wonderful NZ's South Island largest city is. But if you have just 24 hours in Christchurch then this travel guide is for you.
In this article we will explore the following:
How to get to Christchurch
Where to Stay in Christchurch
Things to Do in Christchurch
How to get to Christchurch and into the CBD
Christchurch Airport sits about 12 km outside of the city centre. The airport receives numerous domestic flights and a limited number of international flights so if you are travelling in from abroad, you'll want to check if you can get a direct flight. You can take a bus or shuttle into the city centre from the airport. You can of course hire a car, but just note that parking rates are pretty hefty in the city centre. It is more convenient to book your car hire for the next day and pick it up instead of parking it in the city.
Where to stay in Christchurch
There are heaps of options to choose from, here we start from the cheapest to the most expensive:
Jucy Snooze
The Jucy Snooze is super close to the airport and just a 10-minute drive from downtown Christchurch. With free parking, so this option is perfect if you have hired a car or a campervan and just want somewhere to lay your head for the night. You can get a bus into the city quite easily from here. The hotel provides both ensuite rooms and a more economical pod option. Pods provide you with all of the amenities of the hotel, you just have shared bathroom facilities.
You can also use a shared kitchen, the wifi is free and the Antarctic center is just around the corner. It's a cozy and affordable place that keeps you out of busy downtown while also keeping you close to it.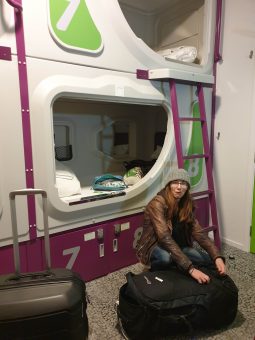 YHA Backpackers
The YHA Backpackers Hostel is great if you are looking for a clean and budget-friendly option. It is also great for meeting new adventurers and great if you want to be central to the city. You get a shared kitchen to cook up your favorited and free wifi. The communal rooms give you a clean, comfy place to sleep without a huge price tag.
Lilac Rose Boutique B&B
If you want something private and cute then the Lilac Rose Boutique B&B is for you. The breakfast is awesome and the guest list short so you can enjoy a quiet and relaxing stay.
The George
If you are interested in a luxurious relaxing stay, The George is for you. They don't cut corners on comfort and will welcome you to a luxurious room of your choosing. You will pay more than the backpacking and boutique options but the benefits are of a traditional hotel of private rooms and bathrooms and a yummy breakfast you don't have to cook.
Things to Do in Christchurch NZ
The International Arctic Centre
If you want to experience visiting the Antarctic without actually being there, The International Arctic Centre has you covered. Check out the Storm Dome where you can freeze for fun with -5 celsius temperatures coupled with -18 celsius winds. Additionally, every hour there is an Antarctic storm you can experience if you're serious about getting a realistic experience.
S'il ne peut pas traiter les causes organiques ou psychogènes avérées et diagnostiquées, le cialis générique offre malgré tout une baisse sensible des risques de trouble de l'érection. Votre pharmacie en ligne vous aide à vous procurer le médicament qu'il vous faut et le tout à bon marché. Il est important de consulter l'avis d'un expert avant de choisir tel ou tel produit, pour se faire une idée de son générique Cialis prix afin de pouvoir comparer, mais aussi pour des raisons de sécurité sanitaire.
The Hagglund is an amazing all-terrain Antarctic vehicle. You can hop aboard and feel everything Antarctic explorers feel when their going up and down over those icy hills and crevices.
Watch little blue penguins catch fish, get up close and personal with huskies, and enjoy a 4D film that actually takes all of your senses into the Antarctic. The International Antarctic Centre might just be the trip you take before you actually head out into the Antarctic itself.
If you want to get an Eagle's eye view of the blessed geographical makeup of Christchurch, you will want to take the Christchurch Gondola. You get spectacular views of the Canterbury Plains and the Southerns Alps on one side and the Pacific Ocean flowing all around on the other.
If you want to see all of New Zealand's animals in one place, you're going to want to visit Willowbank Wildlife Reserve. The center founded over 40 years ago focuses on conservation and education while also providing an entertainment factor for you and your family.
You can see all sorts of animals from Alpacas to Miniature Horses, but the animals unique to New Zealand might be of particular interest. In this section you can check out the rare New Zealand Kiwis, the cute Brushtail Possum, Kakariki and more.
The center is divided into three sections: farm animals, New Zealand animals and Zoo/Exotic animals so there is a lot to see. Make you sure you are prepared to spend your time accordingly.
If you want an old-fashioned way to the city, you're going to want to hop onto the local tram. There are 17 stops along the way, giving you access to all the local attractions in the city centre. And you can hop on and off whenever you want with your ticket.
For a real cool dining and touring experience you can book your reservations on the tram restaurant. The tram restaurant opens up in the evening at 7. The menu changes with the seasons, but is always gourmet. A sample menu includes a Lamb Rump with all the fixings or an Oven-Baked Monkfish for your main.
A stylish Tram dessert could be a special New Zealand Kiwifruit and Manuka Honey Cake or a New Zealand local cheese platter. The restaurant is seasonal so availability will depend on when you decide to travel to Christchurch.
Free Things to Do in Christchurch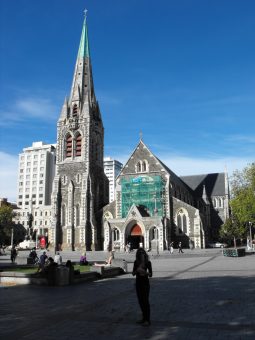 All of your adventures don't have to include a dollar sign. There are many fun things to do in Christchurch that don't cost any money at all. You can hike the Bridle Path and view the spectacular Christchurch, New Zealand scenery around you.
Visiting the museums and botanical gardens is also free. Those two things combined give you a rich taste of what Christchurch is all about. There are also numerous markets and festivals you can enjoy throughout the year, which gives you a chance to rub elbows with the locals and get a real taste of the Christchurch lifestyle.
If you have just 24 hours in Christchurch before embarking on your South Island road trip then the activities we have mentioned should give you a good taste of what is to come!
Don't forget to check out our South Island itineraries for some inspiration and if you visiting Christchurch in the winter, do take the time to spend an extra day or two in the region – Mt Hutt ski area is just an hour and 20-minute drive from central Christchurch – and we had a blast up there last winter!