The Abel Tasman National Park is a true NZ treasure. With its pristine beaches and microclimate, it is hard to not fall in love with this place. We have visited a few times but only spent a small amount of time in the region. This past Christmas break we were able to spend more time in the region thanks to our friends from Wellington who had recently moved to the area. 
This article doesn't cover the outer regions of the Abel Tasman and towns, just the national park itself. Most people stay at Motueka (the largest town to the national park) or even somewhere between Motueka and Nelson, but in this article, we are only going to focus on the two settlements right on the edge of the national park, Kaiteriteri and Marahau. 
This is our guide to the Abel Tasman National Park and this guide will cover:
How to get to the Abel Tasman
Who is Abel Tasman – a brief history lesson!
Where to find an Abel Tasman track map
Detailed information on the Abel Tasman coastal track
Where to get the Abel Tasman tide times
The Abel Tasman weather
Kayaking the Abel Tasman
Where to stay in Abel Tasman
Things to do in Abel Tasman
Let's jump right into the logistics:
How to get to the Abel Tasman
The Abel Tasman National Park is at the top of NZ's South Island, it's about an hour west of Nelson (where there is an airport and hire car options) and about a 3-hour drive from the ferry to the North Island. It is the perfect place to bring the kids, the camping gear and the boat!
Abel Tasman is one of N's 13 national parks and it is free to enter, however, to gain access to the best parts you do need to take a boat journey. Their are plenty of options departing from Kaiteriteri and Marahau but more about that later.
The national park is named after a man called Abel Tasman who is officially recognised as the first European to 'discover' New Zealand in 1642 (long before James Cook). The dutchman was believed to have sighted the Southern Alps if you visit Golden Bay you can find a monument commemorating his expedition.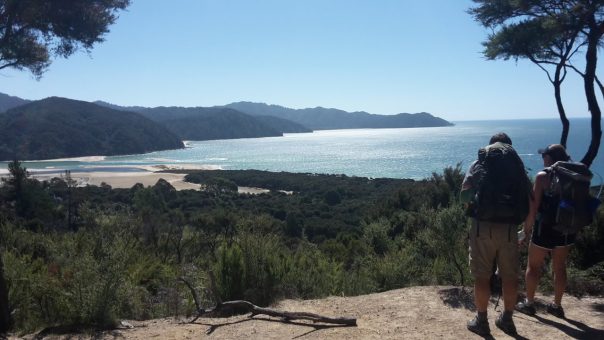 The Abel Tasman Coastal Track
There is a walking track that runs the entire length of the Abel Tasman National Park, you can walk it in many different sections, walks range from just 30 minutes to 5 days (the full track length is 60km's). 
A detailed map of the Abel Tasman Track can be found on the Department of Conservations website (DOC).
A few parts of the track are tidal based, Awaroa Inlet, Torrent Bay Estuary & Goat Bay is only really passible during low tide if you decide to visit this section of the park you can you need to know the tide times. The DOC website is your go-to source for this sort of information as well.
The Abel Tasman weather in our view is a little microclimate, temperatures range from 20 – 25 degrees in the summer and as low as 12 – 16 degrees in the winter. Always check the weather on Google before you go
Our favourite walks are:
Awaroa Bay to Totarauni – 2 hours (7 kms)
If you want to go as far north as you possibly can then this walk is for you. This is the trip we took at Christmas time. We were able to have a few hours chilling (and eating lunch) at the beach at Awaroa Inlet waiting for low tide and then embark on the walk. It was such a relaxing time.
Medlands Beach – Anchorage – 4 hours (9.5 kms)
For a more active walk, I would suggest this section of the track. As you will pass the impressive Falls River Swing Bridge as well as an opportunity to visit Cleopatra Pools, a gorgeous swimming hole with a natural water slide you can enjoy if you are feeling up for it. 
We book our transfers every time with Wilsons Abel Tasman as they offer the most diverse range of options that really do make our day in the park as customisable to us as possible, and we really like that. Every time we visit the Abel Tasman park it surprises us how little we bump into other walkers.  It must be because the track is so long and the track is very well maintained and mainly flat. Whichever one you choose you are in for a treat and don't forget your swimsuit – there are so many hidden beaches you will stumble upon! 
Kayaking the Abel Tasman
Another mode of transport can use in the Abel Tasman is the kayak. Wilson's Abel Tasman have many kayaking trips available or kayak and walking trips. They range from half-day excursions to guided multi-day excursions. 
Our favourite kayaking trips are:
Afternoon Kayak to Spilt Apple Rock – Kayaking time 2 hours.
This trip is perfect for beginners as it passes through more sheltered inlets allowing for a more easy excursion. Split Apple Rock is a rock shaped like an apple with a spilt down the middle, to get up and close to it (more than a boat can) is an awesome experience in itself! 
Beaches, Bays & Seals Kayaking Trip – Kayaking time 2.5 hours.
This kayaking excursion really takes you to the heart of the park and subjectively the most scenic parts! Although whichever bays you pass you really can't go wrong, it's all so beautiful. But if you want to walk in the park this would be a good option as you can kayak here in the morning and then walk part (Torrent Bay – Anchorage) of the park in the afternoon. 
Wilsons Abel Tasman will pick you up (at their base in Kaiteriteri or even Nelson for extra $ if needed) and drop you off with the kayak (in small groups with a guide) and take care of everything else in between. We always found kayaking in the Abel Tasman to be easy and not too strenuous. However, from our experience if you are not a keen kayaker (perhaps a beginner or not so fit) then I would suggest just two hours of kayaking in the park, that should really be enough to enjoy it without getting exhausted!
By kayaking, you do get to see hidden coves along the way that you wouldn't see if you were hiking but we found that if you combined kayaking and walking into one day trip in Abel Tasman you get the best of both worlds, see the hidden coves but then also explore the park at our own pace. 
Where to stay in Abel Tasman National Park
As I have previously mentioned Marahau and Kaiteriteri are the two settlements bordering the national park. Two really good independent options would be to book an Airbnb or Bookabach there are some really lovely options in Little Kaiteriteri (a smaller and quieter side of Kaiteriteri).
Or alternatively my other top picks for hotels in the area:
Kim Ora Eco Resort: Based just a ten minute walk from Kaiteriteri you will find this resort has two swimming pools, a restaurant and the most loveliest suites, some with a spa bath and a view. Suitable for families and couples this makes for a very comfortable stay.
Awaroa Lodge: If you want to stay right in the park then this is your best bet. Based on Awaroa Inlet means you get to stay in luxury whilst hiking. We stayed here in 2018 and loved it!
For the majority, though it might be a better decision to camp at one of the private campgrounds at Kaiterteri or Marahau or at one of the DOC campsites in the park itself. 
I was pleasantly surprised at the standard of the campgrounds, they have pretty good toilets, a kitchen shelter, somewhere you can have a campfire and of course an amazing beachfront location. 
Just imagine by camping here for a few nights, after all the day-trippers leave you have this paradise all to yourself! Now that for me is priceless.
Things to do in Abel Tasman
Abel Tasman is an adventure playground due to its incredible white sandy beaches that main other tour attractions have popped up offering a range of different activities. If you are looking for something different other than kayaking and hiking the Abel Tasman track I would suggest checking out:
These guys do really cool trips in a Waka (a Maori Canoe – not the traditional kind though). You get to share the experience with a small group of people, you work as a team as you paddle through the most scenic parts of the Abel Tasman. It's a great cultural activity and something that is lacking in the park itself.
This trip is perfect for those who want a spot of luxury whilst in the Abel Tasman. The day cruise allows you to kayak, swim and eats at some truly magical spots. You will feel really relaxed once the platter-style lunch arrives!
Did you know that Kaiteriteri has its own mountain bike park? We didn't even until we set out on a bike trip (following the Tasman Great Taste Trail) from Motueka. We came across the mountain bike park and spent hours exploring all the different routes amongst the native bush. So much fun!
To complete this guide I have put together some of our top tips, things we have learnt after visiting numerous times over the last few years!
Book in advance – if you can that is, as accommodation & boat tours often sell out especially in high season.
Study the Abel Tasman map for a while and familiarize yourself with the names of the bays, it can get quite confusing quite fast!
Go early as possible as parking at Kaiteriteri is very limited, Marahau is not so hectic but it's better to park at Kaiteriteri for the boat cruises. 
Pack a feast! Think lunch, snacks and more snacks. And plenty of water was there is no drinkable water in the park.  
CAMP – take the effort to camp in the park you can leave your car safely at Kaiteriteri and get Wilsons Abel Tasman to take to your campground, which can act as your base as you explore the park. When all the day-trippers leave it is worth it!
To find out more about the areas beyond the Abel Tasman National Park visit this page where to tell you all about the 10 day adventure we took our parents on in the Abel Tasman and Marlbourough Sounds region few years ago.