The Tongariro National Park is near Lake Taupo on the North Island it is by far the most scenic region to visit on the North Island.  The "must do" hike of the National Park is the walk that is most commonly described as one of the "Best Day Walks in New Zealand" – The Tongariro Alpine Crossing. However we believe there is so much more to this National Park than meets the eye. We have been camping there twice now and each time we go we discover new walks and great places to explore.
The Tongariro Alpine Crossing isn't just a day walk it is also one of eight "The Great Walks of New Zealand" consisting of 43 km's of walking stretched over four days! Or alternatively if you're not cut out for that there is a much shorter path (19 km's) that can be done in a day. It has now become so popular that it is not a walk where you go to get off the beaten track, it is safe to say it is a tourist trap!  If you do the walk in the height of the summer you will most likely be doing it with thousands of people who are embarking on the same path as you.
The last figure I read was that over 4000 people hike the crossing each week in the high season! So getting that perfect picture without people photo bombing your photos could prove a little tough!
This article is not about saying to others don't do the Alpine Crossing, it is without a doubt an epic journey and if you have the stamina to complete it you get a great sense of achievement and you will most definitely feel proud of yourself! Many travellers we have talked to have not visited the park simply because they don't think they can finish the "job!" I would hate for anyone to remove this National Park off their "New Zealand Bucket List" for that reason so please do visit the park even if you don't think you can't handle 8 hours of walking as you are missing out big time!
We also get a lot of questions from our readers whether or not the day walk can be completed without an guide, and the answer is yes it can be, however we strongly reccommend you take a guided tour if you are visiting in the winter. The weather can change quickly in the winter so safety is your number one piority. If you are concerned, you can register you self in the park at the information centre, where you can tell an official exactly where you are walking.
Instead of discussing our experience of Tongariro Alpine Crossing we have decided to focus on pointing out other areas of the park that may just have less people on the same track as you! If you can't manage the 7-8 hour hike here is our guide to exploring the park a different way!
The Whakapapa village & Mt Rupheau:
The Tongariro National Park consists of three active volcano's Mount Ruapehu, Mount Ngauruhoe, and Mount Tongariro. All beautiful iconic in their own right. Whakapapa Village is the main hub and a key starting point for many of the walks. The information centre here is run by the Department of Conservation (DOC) and is a great place to start if you have no guide book and no clue where to go first! The village has accommodation ranging from a luxury stay at a Château to small family run camp sites. If you have a guide book or have followed some other travel bloggers advice you really don't need to stop here, unless you are embarking on other nearby walks, more about this later.
We suggest driving straight past the village up the hill towards Mt Ruapehu to what is locally known as the "Top of the Bruce" (It's called Bruce Road). The drive climbs up towards the volcano and leads into the Whakapapa Ski area. In the summer this ski village is deserted! You will only find a few people who have made the effort to see the park past the Alpine Crossing and from here the views are incredible.
On a really clear day you can see Mt Taranaki and beyond you real do feel like you're at "The top of the world!" There is a stair lift open all year round which will take you to "New Zealand's Highest Café" a novelty I know but from the cafe there are some great 2-3 hour walks steadily climbing the mountain with hardly a tourist in sight! For more information on these walk's simply pop into the shop and café at the car park where you can pick up a free map. On the way back down the road to the village if it is late and you are in a self-contained vehicle there is a lovely little spot on the side of the road with this view!
To check out more about freedom camping read our article here.
Camping at The National Park:
By camping at the DOC campsites in the National Park (often free or $6 per person) and avoiding the village campsite you get to discover more parts of the park and more less trodden tracks! The first time we visited the park we camped at Mangahuia Campsite it was a small campsite by a stream with very few pitch's. From here you could simply leave your car of camper and explore the park on the Whakapapaiti Valley Track an easy 1.6km loop walk.
The second time we visited we did actually embark on the Alpine Crossing (check out our feature image!) and needed some where free (we were on a budget!) to rest our tiresome legs afterwards! We decided to camp at Kairmanawa Forest Park a short drive from the National Park on the east side.
Do make sure when you camp at these free campsites you bring enough food supplies as well as water to last a few days, there was also a stream here (for a wash or two!) and a long drop toilet but not much else! From the campground there was 1-2 hour short loop walks in the bush to explore. Not a lot of people get time to explore this forest park's so it felt great to get off the beaten track a little.
Other Walks within the Park:
From the village there are a few really great 4-5 hour loop walks that can be achieved at a steady and easy pace.
The walk to Taranaki Falls is the one walk that really sticks out in my mind. The walk is a 2-3 hour (6 km) loop walk from the village. The waterfall tumbles 20 metres down a large lava flow into a boulder ringed pool, it was a great sight and a fantastic walk to complete in an afternoon! For more walks like this check out the DOC website, the link is here!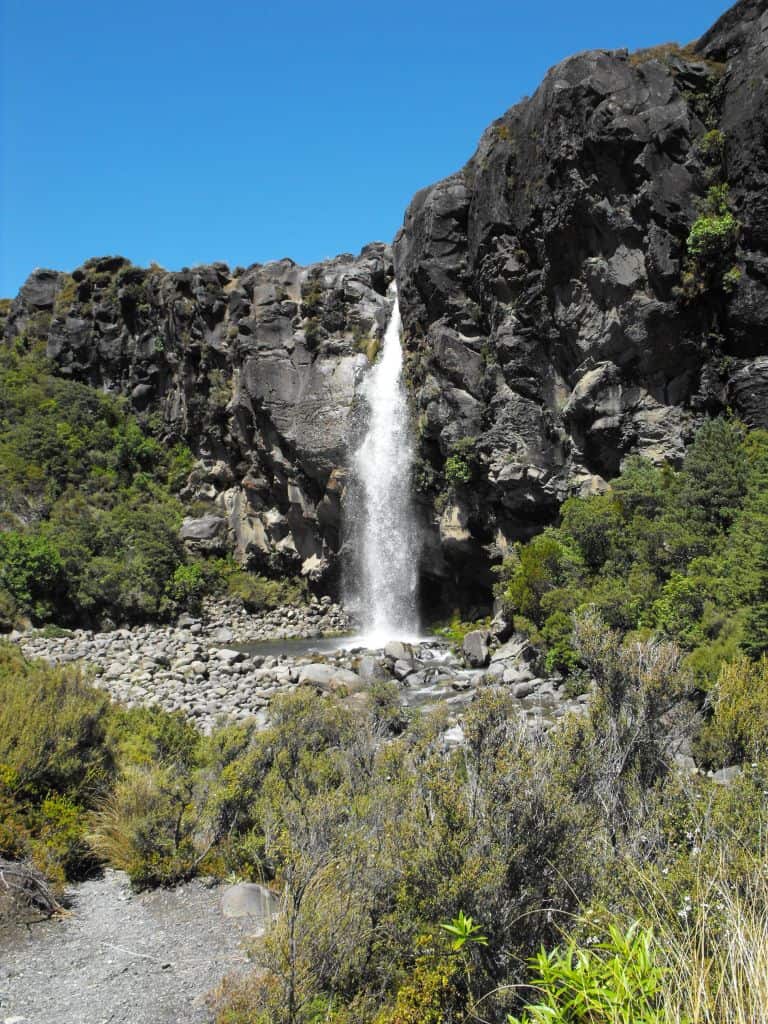 The excellent thing about this park and indeed the whole of NZ is that many walks begin from the roadside, you will be driving along and all of a sudden you will see a sign for an hour or two loop walk into the bush nearby, please don't drive on pull over and check it out, take you camera and get exploring!
Top Tip: If you need to find somewhere to stay when you visit then we highly recommend booking your accommodation in advance, it's important not to under estimate how busy NZ gets between September and March each year. We suggest checking out BookaBach (private homes often not found on AirBnB) or this link to find out instant availability of the motels/hotels/guest houses in the area.
We would love to hear what your views on the Tongariro National Park? Is it on your NZ Bucket List? Please place your comments below!