The Catlins was without a doubt was the best place we visited on the South Island last year. There are few other drivable places in NZ where you're going to see such stunning scenery that has yet to be marred by the trappings of tourism. As you drive, you are surrounded by pure nature and sometimes that's the only things you see for long stretches until you pass by another campervan!
The coastline also reminded us of our home county, Cornwall (in England) the rugged cliff edges made us feel at home! We certainly haven't seen a coastline like this in NZ before.
The Catlins sits on the southernmost point of New Zealand's South Island. There are a ton of things to see and do along this 170-kilometre stretch.  We recommend giving yourself a nice, comfortable 3 days for the road trip to get as much as you can out of the drive.
In this article we will go over:
· Where to stay in the Catlins
· Where to camp in the Catlins
· What the roads and facilities in the Catlins are like
·         What to do in the Catlins over a 3-day period.
Where to Stay in the Catlins
Although you might feel like you are literally out in the middle of nowhere, you'll be happy to know cute little villages are set out along the Catlins coast.  And that means you do have some great bed and breakfast accommodation options available for all types of different budgets, in addition to camping of course! Starting from the Balclutha direction and heading towards Invercargill we have the following:
Kaka Point
Kaka Point Luxury Spa Accommodations
Kaka Point Views Holiday Homes
Owaka
Catlins Mohua Park Eco Accommodation
Papatowai
Chasland
Waikava
Curio Bay
You can also check out sites like Airbnb and Bookabach to directly connect with people renting out their own spaces.
Where to Camp in the Catlins
When you get to the Catlins, you're going to feel like you've entered a camper's paradise. There are more places for you to camp in then there are places for you to stay indoors, that's for sure.
You've got the option of private facilities or public facilities (Department of Conservation sites); some of them are free or come with a fairly small fee. Weir Beach and Fortrose camping sites are free and have access to water and toilets.
Some of the private sites have a few extra perks. If you want to change it up for the night and do some cooking, you can check out Hill View Campground which has a shared kitchen. In fact, it also has hot showers, which can be great if you've been out on the road for a long time.
What are the Roads like in the Catlins?
There is a standard paved road route to travel along the coast of the Catlins. But there isn't an intricate network of paved roads because the area is still rugged and far less travelled then other places in New Zealand.
So you should note that you can experience all kinds of wild weather like heavy winds and rain when you're travelling. That also means that the unpaved roads can get muddy so you might want to stay off any inclines and declines during incremental weather.
What Sort of Facilities are Available in the Catlins?
You are going to want to fuel up before you get on your drive in the Catlins. If you're travelling north to south, you can fill up at Balclutha. If you're starting from south to north, you can fill up in Invercargill.
There cute cafes and restaurants in some of the villages, but this is hardly a bustling tourist hub, so many are closed by early evening. You can either pick up your dinner early or make sure you've picked up some groceries. We stocked up in Balclutha as it really was the only place that we could.
You should also note that there will be areas on your Catlins journey when you just won't get a signal for your phone. We also found wifi signal intermittent as well!
What to do on a 3-day tour of the Catlins
We did our trip from north to south, but you can totally flip this itinerary upside down and do the whole thing from south to north.
DAY 1
So if you're starting from the north, you're going to buy your groceries and fuel up in Balclutha and then get on the road. You won't have far to travel before your first stop. If you use Osaka Highway and then Kaka Point Road, you will arrive at Kaka Point in about 20 minutes.
Here you get a spectacular view and there are also many things to do like camping and fishing and water sports. If you drive just a little down from Kaka Point, you'll hit Nugget Point. This where New Zealand's oldest lighthouse sits and it's also where some pretty cool creatures hang out.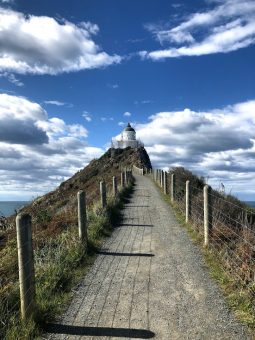 The rocks below the lighthouse are home to sea lions, seals and elephant seals. You'll also see gannets and spoonbills and might even catch a glimpse of Hector's dolphins. You can walk toward Roaring Bay, that's where you're going to find the yellow-eyed penguins; they are endemic to New Zealand's South Island.
You can take a one-hour trip inland to Jack's blow hole, which only spouts when there are extremely rough sea conditions. But just looking down into the giant crater is an amazing site to see. When you get back to the seaside you can head to into the thick of New Zealand's green forests to the cascading Purakaunui Falls. The sound and view of the lush scenery is hypnotic, you'll want to spend some time there. You can spend the night at the campground at Purakaunui Bay.
DAY 2
The next day you can head to Papatowai to the Picnic Point Forest and take a beach walk. There are a variety of nature trails you can tour in the area. You can also head further down to the Tautuku Board walk to the estuary.
One of the most stunning sites you will want to experience is the Cathedral Caves which are halfway between Papatowai and Waikawa. You are able to enter these giant-sized caves and feel the thunderous roar of the sea inside. Just note it will take you half an hour to get into the cave area and another half an hour to get back out on the road.
If you've never seen a petrified forest, next up is your chance. You can stop at Curio Bay and check out this ancient geological masterpiece. When the tide is low, you will able to glimpse the 170 million-year-old fossilized remains of a giant forest. You can still make out the deep lines and markings of the trees that stood there so very long ago.
Close by is Porpoise Bay, there are quite a few accommodation options in the area including free camping as well as hostels. This is a good place to spend night two.
DAY 3
The next morning you can head out for a picnic on the Porpoise Bay beach. You can also kayak and enjoy other water sports if you're there in the warmer months. By the way, this bay is also the home of those Hector's dolphins we mentioned on Day 1.
If you're ready for a romantic and adventurous walk, you'll want to head onto the Waipohatu Walking Track. The place looks like New Zealand's version of the Amazon Rainforest with thick green bush and sky-high waterfalls. After that it is time to head to the southernmost tip of South Island.
As you stand at Slope Point, it almost feels as though you're standing on the edge of the world. You're actually closer to the Antarctic then you have probably ever been. Once you've taken that in, it's off to Waipapa Point which is home to a lighthouse that comes with a story (you can find out the story while you're there). Sea lions seem to love this place, so you'll be able to spot them hanging out there.
You can head to Fortrose for some boating, fishing or golf. There is also a shipwreck to be seen there, but you can only see it if the tide is low. Fortrose has a campsite as well as a cottage option so you can wrap it up here for the night.
There are a ton of other things you can do in the Catlins, you can always take the trip a little slower and stay an extra day in an area to really experience it all. The Catlins is no regular adventure, therefore it certainly isn't for any ordinary traveller.
We were so concerned that we might not be able to do this trip in our 10-metre motorhome but was happy to find the roads were suitable, it was certainly worth the detour on our way to Queenstown! If you're up for a trip nature created, the Catlins journey just might be for you.