We recently spent a few days in Methven and the only thing on the agenda was to go skiing during this winter in New Zealand. We didn't make any other plans and was just looking for the nearest town to stay in whilst we went skiing for a few days. Methven was that nearest town and little did we know we would fall in love with it just a little bit and extend our stay.
Here is why we think Methven should be on your bucket list to visit, especially if you want to go skiing in New Zealand. But from talking to the local's something tells me this small town will quickly become an all year round destination as well!
Let's start with how to get there and where to stay:
Methven is approx 1 hour and 20 minutes drive from Christchurch if you are heading south towards Mt Cook & Queenstown then this is certainly worth the detour.
There are plenty of Methven accommodation options to choose from during your stay in Methven, from campgrounds to quaint family-run B&B's to larger resort-style hotels. The town is small so don't worry about location too much, everything is in walking distance. Check out your options here:
The one thing we did notice is you are choosing to go self-contained is that the supermarket is small! You won't find Countdown or New World only Super Value (who?) and the store was tiny and not well stocked, not to mention expensive. So if you can stock up in Ashburton or if you are coming to Christchurch straight from the airport there are supermarkets right outside the airport. So you can visit after you have picked up your hire car!
Skiing in Mt Hutt:
Methven surprised us and the mountain was even better. Mt Hutt has been rated the best ski resort in NZ four times in a row! As soon as you arrive it's not hard t understand why, the staff we so helpful and dedicated, customer service here is top-notch.
We got up there by taking a shuttle service, there is two available in Methven. But we found ourselves in a bit of a catch 22. One of the shuttle companies was $30 return (Snowman Shuttles) and advertised a faster transfer service – but it wasn't really any faster. But this one wanted to leave the mountain by 3:45pm which meant we would miss half our lesson (which finished at 4:15pm), the second transfer company is ran by Methven Travel (the only travel agency in the town located close to the I Site) who operate more transfer per day for $25 return and would allow us to finish our lesson but unfortunately they were fully booked so we had to use the other transfer company instead!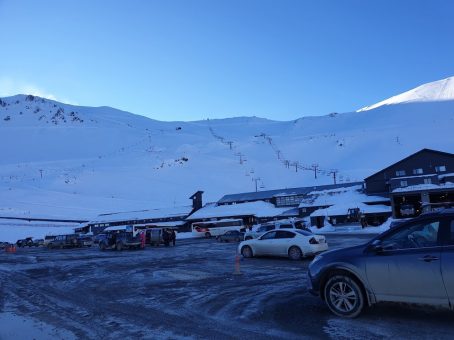 But luckily we met a nice chap in our group lessons who drove up the mountain so we got a lift back with him so we could finish our lesson. I would suggest hitchhiking up there from the outskirts of Methven as heaps of people were getting picked up as we passed them so that's what we did on day two! We even made a friend and met them in the evening for a beer!
The mountain has a good beginners area and as we were beginners we can't comment on the rest of the tracks, unfortunately. There is a scenic lift pass you can purchase which takes you to the peak and the top is an outside spa pool that is free to jump into! It looks really great but I am sure it is more of a  novelty really as we never saw it open and you would have to be really brave to go in there! 
Also, the Corona Bar is a fun stop, often on a good day you can find live music being played, but in regards to the food, we suggest passing on this. Make the effort and just bring your own (Isaac didn't know if he was eating fish or chicken it was that bad, and the chips were cold) or do what we saw a group of friends does, they brought their portable bbq up with them and had a bbq and beer in the car park at their car! We were pretty jealous!
Top Tip: Our top tip for Methven relates to the gear you need whilst skiing or snowboarding. Don't rent from the mountain itself, rent your clothes and gear at the rental shops in town (their is only two and the prices are pretty much the same) as it is a lot cheaper. Also do check out the charity shop for the same price you rent trousers, a jacket and even boots you can buy them!
What to do on a bad weather day or if you're taking a day off from skiing?
We were so surprised at the array of activities available in Methven and we really just didn't expect it! If the Mt Hutt weather is bad on a day you are here you really don't need to worry, the shuttle companies will refund you your ticket and you can use your lift pass for another day.
We really enjoyed the Methven Walkway, but we did struggle to find it. It's a 12.4km circular trip that apparently starts from the I Site. I am sure there is a map at the I Site but we found it really started on the corner of Holmes Rd & Barkers Rd. It follows a stream and a treeline for a while until it reaches the canal that basically circles the outskirts of the town.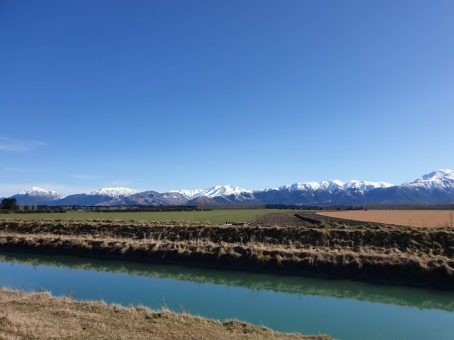 If you can we suggest renting a bike from the town centre to speed up the journey and take the further extension to Ashburton River for a close-up view of the mountains. Plus we didn't see a soul on this part of the track, only sheep and lots of them! It felt great to get out into the wilderness for a couple of hours and not see a single person. 
Another really great thing that we did was discovered Flow Pool and Studio located at 131 Barkers Road (the true start of the Methven Walkway). This place is great and it's not even on Google yet! I was scrolling the Methven & Mt Hutt Instagram hashtag feed one day and came across an image of a  float pod.
Much to my excitement, I discovered this small town has a float pod (click here if you don't know what one is) and the centre also has an outside spa pool and sauna overlooking the mountains. This is a great place to rejuvenate after a few days on the snow and even better for a rainy day activity. 
Rumour is they are going to extend soon to more float rooms and another rumour we after heard talking to the locals is that a new 7.5 million dollar thermal hot pool is going to be built in Methven over the next 18 months – that sounds great to us and another reason for us to return in the future!
What about the outskirts of Methven?
If you want to get further afield whilst in Methven, we suggest checking out Mount Somers home of the Lord of The Rings Edora set and the Rakaia Gorge walkway which is a stunning 10.4km walk along the top of the Rakaia Gorge which takes around 3-4 hours to complete. It was recommended to us by a friend and you will need a hire car to reach these destinations but unfortunately as now only have the big motorhome and our bikes we couldn't do these on this trip – next time!
Where to eat in Methven:
For us, a destination isn't complete with a great set of eating out options and Methven did not disappoint. We loved Primo E Secundo a coffee shop that doubles up as a second-hand store. It had so much character and great coffee, it was a place you felt you could spend all afternoon in.
We also loved the Brown Pub as it offered a top-notch Sunday roast dinner for us. We also loved the Dubliner, the Irish pub that unfortunately didn't serve Guinness but they did a mean rack of lamb with excellent service.
If you want a Guinness then head to the Blue Pub, it's more of a sports bar where live music happens most Saturday nights, it seemed like the less local choice of the pubs, but the most lively.
For us there was nothing not to love about Methven, we had Guinness, good coffee, roast dinners, mountains, skiing and cycling all on our doorstep. We would go back in a heartbeat!
Top Tip: If you need to find somewhere to stay when you visit then we highly recommend booking your accommodation in advance, it's important not to under estimate how busy NZ gets between September and March each year. We suggest checking out BookaBach (private homes often not found on AirBnB) or this link to find out instant availability of the motels/hotels/guest houses in the area.
Visiting the rest of the South Island too? We got you covered – check out our Check out our 10 day itinerary for your South Island road trip!