From luxury lodges, 5 star centrally located hotels, 4-star family hosted unique B&B's, 3-star motel style accommodation, backpackers or cute Kiwi Bach's NZ really does have it all!
Of course which options you choose all does come down to your budget. Each style of New Zealand accommodation offers something unique whether it be the location, the outstanding facilities or simply because they offer some classic kiwi hospitality. If you are wondering what style you can afford please use the below as a guide.
It's difficult to give you an exact across the board cost for each style as costs do vary from region to region. For example, popular destinations like Queenstown will be more expensive than say the small but quaint town of Punakaiki, so do bear this in mind when you factor accommodation into the cost of your trip.
You could always mix it up and stay all of them at least once – after all, it's all part of the fun when visiting NZ!
Backpackers:
Price Range: $70 – $140 NZD per night for private room.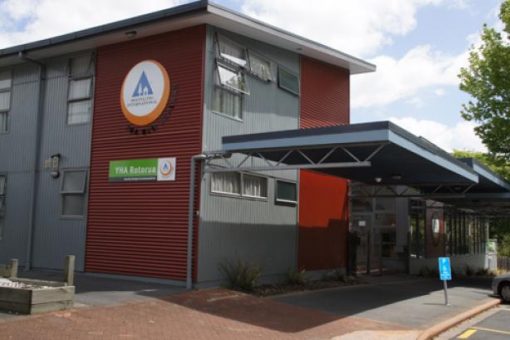 A dorm room or private room in a New Zealand hostel is your option here. They can come with ensuite rooms or shared bathrooms. All have shared kitchen facilities and modern facilities. If you are more of the adventurous type and love meeting new people from all walks of life they can be a great option for the budget conscious traveler! We have previously stayed in Base hostels and YHA's nationwide and have come across all ages of people, they certainly are not just for the youngsters!
Kiwi Bach's:
Price Range: $150 – $250 per night
If you want to holiday like a kiwi this would give you a truly authentic experience. BookaBach (the kiwi version of Air BnB) would be your go-to site to find kiwi's holiday homes that they rent out when they aren't using them. Perfect if you are traveling with a family or don't want to be bothered whilst vacationing. AirBnb is a great option as well!
Motels.
Price Range: $140- $250 NZD per night.
Motels in New Zealand are often a little further out of the town centers, but they are really great value for money. They often will have free parking, free wifi, and a kitchen (or kitchenette) with the option of either one/two or three bedroom apartments with all the amenities you would need. They are great for an overnight stop to recharge your batteries before continuing the road trip the next day. A large network of Motels spread across NZ is the Bella Vista Motel's, your pretty much gauranteed the same style and standard of accommodation through out NZ.
Family Hosted Bed & Breakfasts.
Price Range: $180-$250 NZD per night.
Kiwi's are famed for their hospitality, if you want to meet the locals then this is the best way. They have converted and opened up their family homes to ensure you get a stay in NZ you won't forget. They often only have 2-4 rooms, offer breakfast the next day as well as free parking and free wifi. This is a great option if you are after a more personalised service whilst in NZ. The photograph above was taken at our stay at Morepork Lodge in Paihia, the place has the best hosts ever!
4-5 Star Hotel's.
Price Range: $220-$380 NZD per night
If you want the service without paying through the nose then hotels are a great choice. Rooms are often large, the hotels very centrally located and have the service to match. You can opt for a room only price range or room and breakfast. Often they will have all the facilities you need, a gym, a swimming pool, restaurants, and bars. Don't expect free wifi or free parking though, they usually charge extra for these. The place in the photograph is the Martinborough Hotel in the Wairarapa region – it's simply stunning here!
Luxury Lodges & Exclusive Private Retreats.
Price Range: $350 – $1,500 NZD per night. More if the retreat is all yours!
NZ is fortunate to have some of the best scenery in the world, mix this with Kiwi hospitality with lodges in the most stunning remote locations imaginable and you will get the best of the best. Luxury Lodges in New Zealand will often only have a few rooms allowing for a more personalized service.
Amenities such as swimming pools, full meal options, spa treatments will be at your fingertips, you will be relaxed the moment you walk through the door and feel like royalty all at the same time!
Something Different?
Price Range: Depends on the style.
Think Glamping, Glass Pods, Treehouses, Hobbit Houses accommodation and Farm Stays. NZ really has an incredible range of unique styled accommodation, designs you could only dream of! A quick google search of the above keywords will certainly bring up the types of places we are talking about. If you want a few tips just get in touch! Check out Hapuku Lodge though, its awesome!
Camping & Freedom Camping.
Price Range:$24 – $55 per night for 2 people, possibly even FREE.
The camping culture is huge in NZ. Kiwi's will often spend weeks upon end camping at their favourite campsites and return year upon year. Facilities differ from campsite to campsite. The Top 10 brand undeniably have the best facilities nationwide but they are also usually the most expensive. There is a great App that we love called CamperMate that you can download to find the campsites upon your route. In the busier months arriving before 3pm to get a spot (more so relevant if you haven't booked) is a good idea.
Freedom Camping is also an option if you have a campervan/Motorhome. Basically, if you are fully self-contained you can camp in designated spots for free. To find out more information on both options above check out our guide to Freedom Camping.
For more ideas on where to actually visit in NZ check out our 30 Day Self Drive Itinerary of both islands. 🙂