In March 2018, we had the absolute delight in hosting Dawn's parents in New Zealand for their second time to New Zealand. When we asked Dawn's mum "Where do you want to return to this time around" before Dawn could even finish the question the reply was "The Abel Tasman"
Of course, it wasn't hard to convince us not to return, it's something about those white sandy beaches that make us feel like we are in paradise. So back to paradise we went!
This time around when the parents were visiting we decided to travel at a much slower pace and concentrate on two regions of the South Island instead of travelling the whole length of the South Island like we did back in 2016. This is the 10-day route that we travelled from Wellington.
Watch our video here to see what we got up to!
The Route: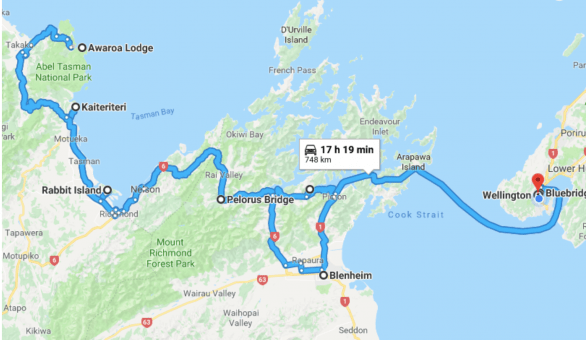 Highlights of this itinerary include:
The Queen Charlotte Track, hiking, and biking;
Pelorus Bridge;
Havelock;
A visit to Rabbit Island;
Numerous days of adventure at The Abel Tasman National Park;
An overnight stay at Awaroa Lodge;
Wine tasting in Blenheim's top vineyards;
Please Note: This is not a sponsored post we embarked on this trip with our family and all views are based on our observations and experiences.
Want to explore more of the South Island? We got you covered – check out our 10 day itinerary of the South Island
Day 1: Ferry to Picton
We took a mid-morning Bluebridge ferry from Wellington Picton as we had decided to take our car over (but you can hire a car from Picton if needs be) – perks of now living in Wellington! The ferry ride itself wasn't a bad journey, it was a calm sailing all the way. We kept ourselves busy by taking photos of the Wellington coastline as we left and the Marlborough Sounds as we arrived. We enjoyed the coffee on board and the TV Room.
However, it is important to note that do allow for more time than you think is necessary.  Our ferry on this occasion was late leaving thus late arriving, a 3-hour journey turned into a 5-hour crossing. It seemed to take them ages to unload and load us all, boredom was truly setting in! We were glad that our accommodation was only 25 minutes outside of Picton in a small settlement called Anakiwa.
As travelling days go this was quite a long one so I would advise you all not to underestimate the extra time it does take to make the crossing. It is timely and with the number of cars/cargo/lorries, they have to load and unload it does test your patience!
Top Tip:If you can take the ferry as a foot passenger we do recommend it, foot passengers were on first got the best seats on the ferry and off first – much quicker! You can find out about hiring a car from Picton by clicking here!
Day 2: Discovering Anakiwa & The Marlborough Sounds
Due to the impending turn of the weather, it seemed this was our only day to explore the Queen Charlotte Track. So, there we were thinking we were in for a leisurely morning of bacon and eggs instead by 10 am we were on the track trekking to Davies Bay.
Our AirBnb accommodation came with some Kayaks and Mountain Bikes that we could use. So, whilst Isaac cycled the track (which you can easily do in the summer months when its dry) and got further we only went as far as Davies Bay (a two-hour return walk) and enjoyed a picnic lunch at a more leisurely pace!
Unfortunately, the heavens opened late into the afternoon. Our dreams of kayaking the bays vanished.
Top Tip:Anakiwa turned out to be a great base for walkers wanting to walk sections of the track as a ferry runs daily to certain points along the track. It was also considerably cheaper than staying in Picton.
Day 3: Pelorus Sounds & Kenepuru Sounds
The weather really did put a dampener on our experience of the sounds, we did plan to take a cruise and explore more of the sounds on foot, but it was a very wet day for us, so we decided to hop in the car and drive the incredibly scenic drive of the Queen Charlotte Drive & Kenepuru Sounds, taking plenty of stops for photographs. We would certainly suggest this as a great alternative for a wet day activity.
For dinner, we decided to eat at Havelock just a 25-minute drive from our accommodation. The Captains Daughter was our choice and we can highly recommend. It has very cosy and friendly atmosphere which was welcomed by us especially on the wet and windy day we were having!
Day 4: Travel to Motueka (2 hours & 15-minute drive)
This was our second travelling day of the vacation, as we had previously explored Havelock the day before in the rain our pit stop as such as Pelorus Bridge and the Café. We reminisced as this was one of the first stops we visited back in 2010 when we explored NZ on an epic 6-month road trip! Nothing had changed much!
We took a short 45-minute loop walk through the bush and along the river and enjoyed a quick coffee at the café before getting back on the road.
We had forgotten how incredible this drive is to Nelson! As soon as you drive over the hill you reach Nelson and the highway basically follows the sea all the around the bay. It's an incredible coastline!
Our lunchtime stop was Jester House located on Aporo Road just off the highway as you get closer to Motueka. We were told by some friends to visit Jester House and to allow at least two hours there, we stayed for three! Jester House is a true kiwi gem. Their café was set up twenty years ago and is in the most beautifully presented gardens. They grow all their own fruit and veg and their love of food really is reflected in their menu.
It's family friendly as well, they had a treehouse (yes I had to climb it!) with a slide, a children's play area and a place where you can feed the 'tame' eels. Hours of fun to be had!
Day 5: A day exploring Rabbit Island
As we knew we were spending a good time in the Abel Tasman National Park in the days to come we took the opportunity to venture further and explore a bit more of the Nelson coastline.
Rabbit Island is a small island located just 20 minutes from Nelson connected by a bridge. Cars are able to easily access the beach and its forested woodland. We had an incredible day relaxing at the beach (the sun was shining for us now!), swimming, going on long circular walks in the woods and enjoyed a picnic.
Top Tip:If you want to avoid the tourist trail then Rabbit Island is the place for you. The visitors to the island were clearly all kiwis (who else brings buses to be beach and camps up for the day?!) so we had a very relaxing local's day!
Day 6: Kaiteriteri – Beach sunbathing
The weather had really started to pick up for us now, we were officially in vacation mode and loved every minute of the sunshine poking down at us! We decided to spend the day beach sunbathing at Kaiteriteri. But little did we know we had picked a day for the local fun run, the beach was packed!
We headed over too Little Kaiteriteri beach which was a lot quieter. Our afternoon was spent at the Sprig & Fern at Motueka's craft beer bar, who doesn't love a beer in the afternoon sunshine!
This was the day we were all looking forward to the most and we were praying for the good weather to hold out, and it certainly did!
We took the 9:00 am Abel Tasman Sea Shuttles ferry to Awaroa Inlet from Kaiteriteri. I managed to get everyone there early (8.30) to check in and we were glad that we did as at 8.30 am no one was there queueing to check in but within 10 minutes the queues were around the block!
As we guessed the popularity of Abel Tasman has increased. After a bit of confusion of which boat we were on, putting up with a large queue to get on the ferry we were on our way!
Abel Tasman Sea Shuttles had very good commentary of the coastline, we got to see Split Apple Rock and as we headed up the coastline we really felt like we got a good tour of the Abel Tasman, as well as just a shuttle service.
Our accommodation for the night was at Awaroa Lodge, a four-star lodge in the middle of the bush a short 5-minute walk from the beach. Well, at least it would have been a 5-minute walk if the storm that hit the region a few weeks prior hadn't damaged the wooden platform meaning the only way to get to the lodge was via a longer 20-minute walk, at least it was flat and sheltered!
We spent our morning exploring the Awaroa Inlet before the tide took it over and stranded us and we spent the afternoon climbing up to the viewpoint and walking a section of the great walk. The views up here of the inlet were incredible and we even came across a sketchy placed swing, which of course we had to try out!
Awaroa Lodge has two dining options, their outside Pizzeria or their in-house restaurant. As the evenings were getting considerably cooler we opted for the in-house restaurant, with no plans to consume a 3-course meal, but the food was so scrumptious we did overindulge slightly!
Our evening was topped off with a glow-worm spotting excursion of the wetlands, it was a beautifully clear night, one we will remember for a long time.
Below is some more inspiration for things you can do in the Abel Tasman National Park. 🙂
Top Tip:If you can stay overnight at the Abel Tasman National Park we strongly recommend it. In the evening all the day trippers have left and you get to enjoy the park the right way.
Day 8: Leaving paradise, travel to Blenheim. (2 hours & 45-minute drive)
Today it was time to leave paradise and head back to civilisation. We decided to stay in Blenheim for two nights so the journey back to Wellington wasn't quite so lengthy.
We had a beautiful full English breakfast at Awaroa Lodge and made our own way back to the beach to await the ferry. We had to wait a long time at the beach for our ferry as the ferry was delayed but we didn't mind too much as the sun was shining and the beach is so beautiful!
It was a quicker journey back to the mainland and we picked up our car which we had left safely in Kaiteriteri for the night. We didn't reach Blenheim until well after 4 pm though, so if you do decide to do this route do bear in mind that most ferry departures from the Abel Tasman leave after the first schedule of their day. As their priority is getting the day trippers out and about in the park and they pick you up on the way home.
Top Tip:If you are going to have an overnight trip in the Abel Tasman then stay in Nelson the following night. The drive to Blenheim with the scenic stops was longer than we had expected!
Day 9: Wine O'clock – Blenheim
This was our day to get out and explore the incredible international renowned vineyards of New Zealand. We had our designated driver (so important) Dawn's father (he pulled the short straw) and summer dresses (boys as well!) at the ready for our self guided tour of the region.
Brancott Estate was our first stop. Now this vineyard wasn't originally on our radar as we didn't really want to visit a well-known brand and wanted to try something a little bit different. But you really can't fault their location and their presence in the industry.
Their website claimed to have a Heritage centre but all we saw was a T.V room where you watch a 6-minute video on the history of Brancott, that was not so impressive, but the wine tasting one on and one attention we received was outstanding.
There were 3 different wine tasting options, one for $5, one for $10 and one for $15, we opted for all three so we could all taste something a bit different. Of course, we left with a bottle or two – or three! As it makes the tasting free!
Top Tip:Let's just say we were quite happy at 11.30 in the morning, as we were leaving the place was filling up so we would recommend coming to Brancott early to avoid the crowds.
The second vineyard on our agenda was Highfield Estate mainly for its Chateau-like building, they weren't as attentive as Brancott but a lovely girl served us and for $5 we got to taste more than 3 wines each.
We weren't as fond of these wines as much as we had hoped but you could certainly see this place was soon filling up, what we read online that this was the place to come for lunch.
The third vineyard and our lunchtime stop was Wither Hills, located on the main road but you really don't notice it as they have built an enclosed beautifully landscaped courtyard. This time our wine tasting was done sitting down at a table. We felt less rushed this way and I think we all enjoyed it more for this reason. The lady was very attentive, gave us a map of the region which really helped when she explained about where the grapes were from!
After our wine tasting, we moved into the restaurant area and overindulged in large sharing mixed platter and of course a bottle of wine! It certainly was the definition of long lunch and it was the perfect end to a perfect day.
If you would prefer to not have anyone left out or can't find your self a designated driver then we would strongly suggest a tour by Bubbly Grapes Wine Tours. Our friends took this tour when they were visiting NZ in 2018 and loved every moment of it!
Day 10: Return back to Wellington
It was time to leave the beautiful South Island for another year. We filled our car with all the beautiful bottles of wine we had purchased the day before and took the early morning Bluebridge ferry back to Wellington. But it was worth it as this time we were on time and back at home by 1 pm, right in time for a spot of lunch!
There you have it, the Top of the South Island in 10 days, looking back, if we had to do it all over again we would have:
Stayed in Kaiteriteri instead of Motueka (nicer and more to do locally);
Stayed an extra night in Nelson after the Abel Tasman;
Not underestimate the time it takes to get from A-B!
Eat at Jester House more than once and;
Visited Golden Bay, which was originally on the agenda but unfortunately the storm that hit the region a few weeks beforehand meant the road was closed for repair.
Until Next Time South Island!
Top Tip: If you need to find somewhere to stay when you visit then we highly recommend booking your accommodation in advance, it's important not to under estimate how busy NZ gets between September and March each year. We suggest checking out BookaBach (private homes often not found on AirBnB) or this link to find out instant availability of the motels/hotels/guest houses in the area.
Visiting the North Island too? We got you covered – check out our Check out our 10 day itinerary for your North Island road trip!