You will almost certainly want to organize a hire a car when visiting New Zealand, so you can explore one of the most stunning countries on this globe (we are not biased at all!). Some of the most memorable experiences we've had have been on road trips across New Zealand where wild and mysterious places seem to pop out at you from every corner. Our first road trip in 2009 was in fact to The Coromandel Peninsula, it was a journey we will never forget. Hiring a car is also a great option for new expats and it can be quite affordable if you do your research beforehand and know what you're looking for.
In this article you will find out:
What the requirements are for hiring a car in New Zealand;
What you should research before you book;
How to figure out the best pricing deal;
And a secret tip to a super low hire rate;
What do I need to hire a car in New Zealand?
Our global marketplace means that there are many requirements for car hire that have become universal. The things you need to hire a car in New Zealand aren't that different from most destination spots are;
A driver's license;
An International driving permit if your license is written in a language other than English;
A credit card for most companies, as they take an imprint for the bond and not actually take the money out of your account;
If you don't have a credit card, you may be able to put up a bond (security) in the form of a few hundred dollars on a debit card. You will get this back when you return the car back safe and sound.
You must meet the minimum age requirement, which varies across companies (18, 21, 25) – do check the small print!
Do I have to be 21 to hire a car in New Zealand?
There are rental agencies that will rent to you if you are under 25 but their numbers are few. Many agencies require that you have had your license for a minimum of one year. Additionally, some companies have higher age limits such as 21 or 25. Being over a certain age will not be a problem in general, but you can check with individual car companies before you book.
Age is nothing but a number
Despite age limits, some car hire companies will hire to those under 25 if you have the ability to put forth a bond/security deposit. This means you might need to provide a higher security deposit than normal before they will let you drive it off the lot. The bond will be returned back to you as long as you bring back the vehicle in the same condition they gave it to you in.
Stick to your lane
The type of car you are allowed to hire can also vary based upon your age. If you are under 25 or 21, you may be excluded from hiring certain cars or campervans. You may also have to pay an 'age' surcharge if you are younger than 25 or 21. But do not be dissuaded there are still plenty of options available for you.
You should be able to hire most standard-sized cars as well as 2-berth campervans (RVs are a little more difficult to find for under 25s). Essentially, if you are under 25, you will have to do a little bit more research to get exactly what you want.
How to figure out the best pricing scheme for your budget
You are going to have options here and you need to understand the terms in order to not purchase something that you really don't need!. However, some of them will be better suited to what you need so it is best to give yourself some shopping time.
Car hire Company Comparison
Before deciding on a car hire company you should check out several because the options will vary. There is always a base price you are going to pay for the vehicle, but companies also offer packages and you should compare them based upon your personal needs. We always use RentalCars.com which is a great universal cost comparison website at competitive (and often cheaper than going direct) rates. You can start your search below:
The Date Can be Important
The date of your booking will make a huge difference in your pricing. If you book in the summer months, you can expect to pay almost a third as you would in the winter months. The shoulder months (September, October & April, May) between summers and winters can often be the best times to hire but it only really varies by a couple of dollars a day, nothing major. The changes in pricing will vary from company to company.
Premium Location Fee
Almost all hire car companies in NZ charge a premium location fee at places like the airport, or at ferry terminals. If it is worth the extra dollars, sure go ahead, or you can opt for picking up from a place that is off of the central areas to avoid the extra fee. For example in Auckland you really won't need a hire car, so we suggest picking up your hire car in Auckland CBD on the day that you want to start your New Zealand road trip.
One Way Fees
If you intend to drive to your chosen destination and drop the car off there, you will have a fee. These fees will vary from company to company. Some bury this cost into your daily rate so this is something you probably won't even notice gets charged to you!
Extras
Some companies throw in extras like camping tables and chairs which is helpful if you don't have those items. You should factor in those extras when trying to decide which campervan company to choose. Other extras are children car seats (charged at a flat fee), snow chains (in the winter of course!) and a GPS Unit.
Insurance
The type of things included with each rental company's standard insurance package can vary, so be sure to check those out. Do check with your travel insurance provider as travel insurance often includes insurance for your hire car in New Zealand, so a 'Full Insurance' coverage with the hire car company may not be required. We do certainly recommend you get fully insured when you hire a car in New Zealand for peace of mind more than anything!
Plus it's not actually a legal requirement here in New Zealand to have insurance whilst driving a car (crazy I know!) so if you bumped into another person (a kiwi for example) then the chances are they don't actually have insurance so they will want to claim off yours or AKA the car hire companies, even if its not your fault!
Do I need to book ahead of time?
YES! New Zealand's visitor numbers are increasing year upon year and it's no longer possible to pick up a hire car at the airport when you arrive. You will just cause a logistical nightmare for your self and for the hire car company. If you do opt for this method, don't expect an opportunity to haggle down on the price (it's not Asia!) and do expect the hire car company to only have a car for a certain part of your journey. You may need to return the hire car in a different destination than you had originally planned.
What to remember before you drive off and get back on the lot
Hiring the car can almost be the easy part, but remember you are dealing with an expensive piece of equipment you're borrowing. So there are some things you should pay attention to before you throw your hat in the air and drive off!
Inspection and Gas
Make sure to do a thorough inspection of the vehicle before you take it, you will have to pay for any damages not noted down on the sheet they give you. Walk around the vehicle with the representative of the car hire company and get them to note down anything extra you see.
You should receive a vehicle with a full tank of gas and you must return it with a full tank of gas. If the company hasn't filled it up to the top, make sure you have them do it. They also may ask you if you want them to fill up the tank so you don't have to do it upon returning the vehicle, at this point say NO! They charge a crazy amount per litre for gas and it is much cheaper to fill up the tank yourself instead of getting them to do it.
Returning Your Car
It is best to return the car when the company is open so you can be there for the full inspection. If you can't then they often have key deposit boxes that you can drop the keys into, if you do opt for this just leave a little note with the keys to say where you left the car (make sure you haven't left in a illegal spot) and take a few photos of the condition that you left the car in (inside and out) for your own protection.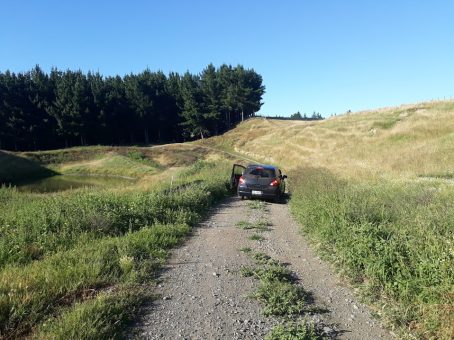 Cheat Sheet
Relocation Cars
Many people choose the one-way option when they are exploring New Zealand. That means they will drive the car to their chosen destination and leave it there. If you can find one of these cars that need to be driven back, you will pay a very low amount on your rental as you are also providing the car hire company a service. If you are flexible with your plans this may be the perfect option for you, do check out our article on car and campervan relocation which explains more about how this actually works!
Is it safe to drive in New Zealand?
Absolutely! New Zealand has pretty standardized road rules and the roads are nicely tarmacked! Don't expect motorways/highways outside of cities though, most of our roads are single carriageways with overtaking spots every 10 km or so. If you would like to brush up your road rules then the AA has a great resource you can use, it's pretty cheesy but quite useful!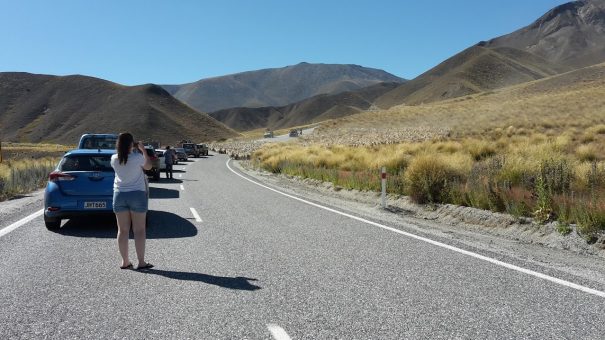 Hiring a car in New Zealand is not difficult at all as long as you have a basic understanding of what is required. Representatives of the car hire companies are generally very helpful when you come to pick up your hire car and you will likely have a similar experience to hiring a car in any other Western country.
With your own vehicle, you can go as fast or slow as you want to and discover the loveliness of it all at your own pace. (We're kind of in love with this country if you couldn't tell!).
If you would like some inspiration of where exactly to go when you hire a car in New Zealand check out our travel itineraries, in 30 days you can see all of NZ or if you have a shorter amount of time then check out our 10 day South Island itinerary and/or our 10 day North Island itinerary.