Great Barrier Island has always been on our bucket list but it always felt too far away and too difficult to reach but all that changed when NZ closed its borders due to Covid-19 and suddenly everything in NZ felt very close and attainable! This summer it appears that everyone started looking at alternative and unique places to visit in NZ for their summer holidays..including us.
And boy did Great Barrier Island not disappoint us, my advice to you is to stop making excuses and go and visit this incredible island. It's free of overpopulation, full of beautiful empty beaches and has a back to basics vibe which was for us a very welcoming feeling.
To be able to shut our selves off for a few days from what at times feels like a broken world is just what we needed.
This is our travel guide to Great Barrier Island and in this guide we will cover:
Where and how to get to Great Barrier Island;
What to do on Great Barrier Island;
Great Barrier Island accommodation options;
Great Barrier Island car rental options;
Great Barrier Island weather – the myths!
Let's start with answering your most pressed questions first:
Where is Great Barrier Island? 
Great Barrier Island is an island in the Hauraki Gulf, 100km's northeast of Auckland. You know that big island at the tip of the Coromandel? That's it.
How to get to Great Barrier Island?
You basically have two options, one is the Great Barrier Island ferry (operated by Sealink) or a Great Barrier Island Flight (the two operators here are Barrier Air and Fly My Sky).
Where to stay on Great Barrier Island
Holiday homes know as Bachs in NZ are aplenty on Great Barrier Island. It is best to rent a bach or camp somewhere, preferably near the beach. 
What to do on Great Barrier Island
Great Barrier Island has a range of activities you can do beyond the famous the Aotea Track. The island has plenty of day walks, half day walks and numerous beaches to explore!
Great Barrier Island Car Rentals
There are numerous car rental companies on the island, however, most of them are independently owned and don't have online booking systems. It is best to email them individually and await a response.
Great Barrier Island is quite simply stunning and so untouched. It is home to some 1000 residents that are a welcoming bunch (if you don't tell them you are a Aucklander!) they all share a passion for the environment, there are no rubbish bins on the island (they ask you to take your rubbish home with you) and they all have their own individual solar electricity supply. We love our off-grid lifestyle so we knew we would certainly fit in here!
The Great Barrier Island weather also plays a role in the magic of this place. The east coast is so exposed so it has the best surfing beaches on this side of the island but also the strongest winds. And the wind was a recurring theme during our time on the island. It seems the residents also spend their time sheltering from the wind. Overall though the weather didn't disappoint us, we found it to be sunny most days even though the weather forecast said that it wasn't' going to be!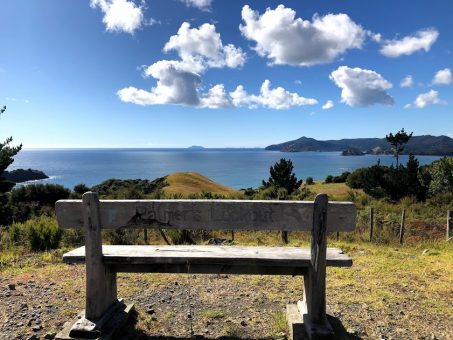 Getting to Great Barrier Island:
Sealink offers a passenger ferry with an option to take your vehicle over with you from Auckland CBD, it takes almost 5.5 hours to reach the island (4.5 hours is the official sailing time but let's not forget the loading and unloading time we need to factor into the journey). We found that the sailing option for us became sold out very quickly and we also found it be to almost $200 more expensive than the flying plus rental car option!
We were travelling over the course of the New Year and Christmas break in NZ so that is probably a reason behind the expensive prices, but in general, when we're discussing our options as we only had three full days on the island we didn't want to spend eleven of them on a ferry. Flying was fast and efficient and got us from Auckland Northshore airport to Great Barrier Island in under 35 minutes. Now you can't argue with that!
Northshore airport was a great airport to depart from, parking was free, check-in was easy, we didn't have to put up with the hassle of everything that Auckland airport brings to a holiday. We were relaxed from the moment we checked in!
We flew with Fly My Sky as their deals on the day were marginally cheaper than Barrier Air. Fly My Sky is the smallest airline of the two options, therefore if you are not so comfortable with flying in a small plane (with about 9 people including the pilot) then Barrier Air might be a better option for you. Barrier Air aeroplanes fit around 13 people in them, however, it is still tinier than you will be used too!
As we were camping we purchased the maximum 23kgs of luggage per person, however, we didn't realise that you can take more than one item of luggage if required and it doesn't have to be in a suitcase! eith Fly My Sky Each item of luggage should weigh no more than 16kg. This turned out perfect for us as we decided to take a box for all our camping gear, then separately we had the tent and two bags of belongings for our other gear. We totally over packed but that's another story!
Accommodation on Great Barrier Island:
To say Great Barrier Island accommodation options are pretty limited is a fair statement! Airbnb or Bookabach are probably going to be your best options, as there are plenty of Bach's on the island. Booking.com is probably another good resource to use. Our top picks due to location are:
For a more widely available option camping on Great Barrier Island is probably one of the better options. As over half of the island (60%) is publicly managed by the Department of Conservation they have opened up numerous camping sites which are dotted all over the island. To view the locations of them click here (the link will take you to the DOC website) If you are coming in high season it is advised that you book before you arrive.
We opted to camp at Medlands Beach DOC campground as we read that their toilet facilities (still a log drop) were the newest on the island. They also had an undercover sheltered area and the camp was looked after by a lovely family who was on the island for the summer. The wind was pretty relentless during our time on the campground, but as we soon learnt, that is a thing for Great Barrier Island!
Things to do on Great Barrier Island
Using the DOC website is your best resource of information to find out what walks and hikes are available and suitable to your fitness levels.
We narrowed down a few options that were suitable for us and ensured we made time for them on our trip. The highlight of our trip was the walk to Mt Heale Hut. It took us around 2 hours and 45 minutes to complete (although the sign at the entrance said 3.5 hours) and we opted to stay overnight in the hut as well.
The walk itself was fantastic, firstly you start by exploring Windy Canyon and then you follow Palmers Track and climb to the ridgeline where you get 360-degree views of the island. If you don't want to walk all the way I would suggest making the effort and make it to the ridgeline for the views.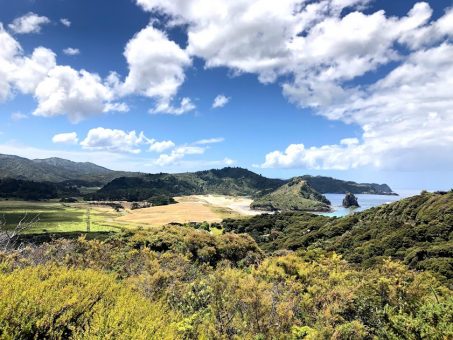 We then had to scramble up some rocks at the end of the ridgeline which was pretty steep! Climb down again and then up again, then down again then up again (you getting the gist?!) and then we reached the most amount of steps I have ever climbed in my life! I read somewhere that there are over 2000 steps to the top of Mt Hobson, we didn't count so I don't know how much of that is true!
At the top of Mt Hobson we were greeted with the highest point of the island which felt quite an achievement! From there we had a 30-minute descent down to the Mt Heale Hut which was our home for the night.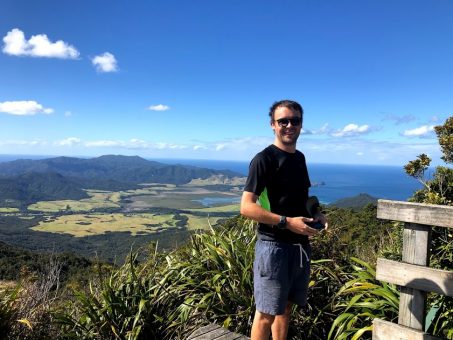 If you do decide to stay at Mt Heale Hut I would suggest getting their early so you can pick your bed. There are two dorm rooms with ten beds in each. Five on the bottom, five on the top. The mattresses are pretty thin and are pushed together, basically, it is one giant bunk bed!
Regardless of which one you pick you cant control who will be in the dorm with you, so it's all about just accepting it and investing in some good earplugs!
We woke for sunrise and walked back and were back at our camp (where left our tent and gear) by 10 am a perfect time for a good nap!
Other less intensive Great Barrier Island walks we would recommend are:
Kaitoke Hot Springs: 1-hour return walk to Great Barrier Islands mineral hot springs. Perfect after a day of hiking. There are several pools along the stream and I suggest you go as far upstream as you can (it is quieter).
Harataonga Coastal Walkway: If coastal walks are your thing, then this one is a must. If you stay at the Harataonga DOC Campsite this one is totally worth it. The views are exceptional and other than the Harataonga hill at the end the 3.5-hour walk is relatively flat.
Glenfern Regional Park & Sanctuary: Located at Port Fitzroy, this park is a gem. An hours loop walk is free of predators and full of wildlife. There is even an opportunity to walk into the canopy of a 600-year-old Kauri tree. Take a picnic and enjoy.
If you want to explore the beaches and just spend some time sunbathing and chilling then I would suggest going tot the side of the island that is less windy on that particular day. We really enjoyed Medlands Beach as it was close to our campground but also sheltered from the wind direction whilst we were there.
We also visit Okupu which we found to have fewer people on it and more sunshade from overhanging trees, something that Medlands was missing!
We ate out a few times on the island, we particularly loved that we found Guinness on the island at the Currach Irish Pub at Tryphena it seemed to be where the nightlife happens however the food wasn't anything to rave about.
We discovered a brewery called Aotea brewery with a rather tasty beer called Solar Charged. We ate at a cafe called My Fat Puku which had the most beautiful salads. We also enjoyed the Pa Beach Cafe at Tryphena they had really good pizza slices at an affordable price.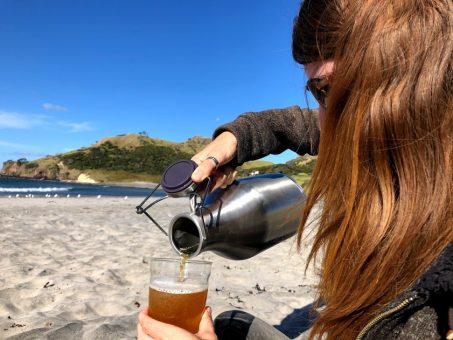 Great Barrier Island Car Rentals:
We managed to find a car hire with Airport Rentals Great Barrier Island who picked us up at the airport. The car was large and great for our luggage we had to ignore the small rattle from underneath the vehicle but it really did get us from A to B just fine.
The vehicle was quite fuel-efficient as well as when we visited the fuel station in Claris Road at the end of our time on the island it only cost us $27 to fuel up and we travelled quite a lot of the island!
If you don't rent a car their is always hitching hiking which appeared quite popular or their are transport operators who will pick you up at one location and drop you off at another, which is perfect if your coming to the island for the multi day Aotea Track. For more transport information contact the information centre (also located at the airport when you arrive) on info@dgbi.co.nz they will inform you of the local operators who offer a service like this.
We strongly recommend hiring a car, you see hitchhikers on the island but they all seemed sweaty and tired and if you're like me and don't like carrying your stuff hitchhiking is just not worth the hassle.
To summarise here are our tips for visiting Great Barrier Island:
Book early, and I mean early, we spoke to a  couple who took their car over with them and had to book six months in advance!
Spend at least 4-5 days on the island especially if you are taking the ferry over. It's worth it!
Plan and write down addresses (and phone numbers) of walks, restaurants, directions before you arrive as we found mobile data and mobile signal to be extremely patchy. We had to sit outside the airport a few times to use their free wifi to find out how to get somewhere a few times. 
Certainly ensure you have a car, either by taking your own on the ferry or by renting a car. 
And if you do bring a car over make sure you come over with a full tank! Fuel was expensive at over $3 a litre!
Bring as much of your own food as you can. The island has two fair sized supermarkets (but they are more like Dairy's) and everything is expensive. So bring the staples and just support local by buying fresh vegetables on the island or by eating out. We also came across people selling their veg outside their house. 🙂
Take your rubbish home with you as there are no public bins on the island and you are expected to pay $4 for an orange rubbish bag and drop it off at the dump yard in Claris. However, we did notice that rubbish collection was in operation and people were just adding their rubbish to other peoples, which is a little naughty if you ask me!
If you do bring your motorhome or caravan with you, ensure you have a full water tank and an empty waste tank as there is no dump station on the island.
Another tip for campervans; if you do bring your motorhome or caravan I would suggest only bring it if it is under 10 metres, the roads are pretty windy and I couldn't see us taking our motorhome here.
Ensure your accommodation is on the southern part of the island. The northern parts of the island take over an hour to get to, it's quite remote so you won't see much of the island if you stay north.
And our final tip; embrace island life! When we arrived the airport officials were super casual, you pick up your own luggage, you stand outside looking a little lost, you drive down the road and realise there are no road markings (and your speedo doesn't work) but it doesn't matter.
Time all of a sudden for us stopped, it just didn't matter for us anymore and that's not just because we were on holiday it's because we're on island time! Great Barrier Island truly is like no other island in New Zealand and we are booking to go again next year!
Would you like more tips on Great Barrier Island? Comment below and we will get back to you.