If you think of white sandy beaches in New Zealand, you will probably be imagining The Bay of Islands NZ. Most visitors to New Zealand make the mistake of heading south as soon as they arrive into Auckland, we think you will reconsider your route after reading this article. Here is the low down of what to see and do when visiting the Bay Of Islands just an easy three-hour drive north of Auckland. Don't forget to watch our video below of our time exploring the bays – we had a blast!
Please note: This is not a sponsored post, we recently went up there for a family wedding and all views are based on our observations and experience of visiting 5 times over the last few years.
Where to Base Yourself:
The two mains towns that offer a variety of accommodation options are Paihia and Russell. If you want the town that you stay in to be full of bars, cafes & shops Paihia is most likely where we would suggest you stay. Paihia is also very accessible for the traveler, who say, doesn't have their own set of wheels as all the coach companies stop here. If you do have a hire car, then do consider Russell and hire a car from Auckland as the drive up their is part of the adventure as well!
Russell is a little further off the beaten path as a car ferry is required to get there. It still has plenty of shops, cafe, restaurants and beaches (note: no supermarket, only a corner shop/dairy) to keep you entertained but it is more quaint. If you want a small traditional, quaint town with a quirky British feel then Russell is for you. Why, you ask? Because this place was actually the first capital city of New Zealand and has deep European and Maori history!
After visiting recently it is clear to us that the two towns attract a slightly different audience. But whichever one you stay at the other is still worth a day trip for a spot of lunch and to browse the shops. You may just find the nighttime entertainment is slightly different!
How to get out to the Bay of Islands NZ:
What is the one thing you are here for? To get out to the islands right? Your trip would not be complete if you don't get out onto the water. And there are a number of ways to do this:
Fancy cruising in style?
With R. Tucker Thompson you can board their luxury tallship with their friendly skippers, your skipper will take you to parts of the Bay of Islands that not many people can reach. With swimming (depending on conditions) possible, a fresh fish lunch, a small group of like-minded people and the option to go on the smaller islands within the Bay this is a unique and genuine experience you will love!
The Main players – Fullers or the Explore group?
When you reach Paihia's Ferry Terminal you will discover two main players, the Fullers office is right outside the ferry terminal  (it also is sneakily in the same building as the town Tourist Information Centre) whilst the Explore Group offices are across the main road (the yellow boats). Essentially they both offer the same experience, their boats are much larger (so you could be stuck on a boat with over 100 people for a whole day) they both will take you to the Hole in the Rock, (An island out in the bay, that has a hole in it that you can sail through – conditions dependent) and they both will stop at Otehei Bay, Urupukapuka – yes I challenge you to pronounce the name of that island!
The difference?
Depending on what trip you book onto (full day or half day) you only get a shortstop on Otehi Bay. If you are with the Explore Group this is to walk up the hill, visit the cafe and use the facilities. If you are with Fullers, then this is only to walk up the hill. Yes, that is right. It seems there is a tad bit of rivalry between the two companies. Fuller's will tell you there is limited to no toilets on the island so go before you leave the boat. This is because they don't want you using The Explore Group's Cafe.
We have heard reports that Fuller's actually rope off the entryway to The Explore Group Cafe and not allow you to go and order something with them! This hasn't happened to us personally, but we know some friends it did happen to.
We decided to embark on a Fuller's day trip and us being little rebels we actually ate at The Explore Group's cafe on the island, we were delighted with the platter we got – it was yummy!
Overall the option of which you go with is up to you, our recommendations would be, if you want to eat at the cafe, eat at the cafe but do reconsider a full day trip, we did feel the trip was a little long for our liking, the boat was quite overcrowded and we felt that we really could have seen it all a half the time!
For Those on a Budget:
Top Tip: If you want to see the islands but can't afford the over $100 odd plus dollars for a fuller or explore or Vigilant trip? Pop into Explore Group offices and book the commuter ferry to Otehei Bay for a tiny $35 return. This is the island that the day trip ferry stop at (but only stop for like an hour if your lucky) You could ferry here, have time to explore the island, go kayaking, see the bay's en route, enjoy a tasty platter at the cafe/restaurant  and generally see a whole lot more than what the day trippers can see of this beautiful island!
Feeling adventurous?
During our time here, Dawn got the incredible opportunity to go on a helicopter trip with Salt Air. You can't miss Salt Air, their base is right on the waterfront just left of Paihia's Fery Terminal. On a fine day you will notice helicopters coming and going all day long and if that doesn't make you want to enquire into one their trips I am not sure what will!
We do suggest you book in advance if possible as they do get extremely busy, however, if you don't do feel free to pop in and speak to one of the friendly team members who will happily talk you through the helicopter trips available to you. They even do half day trips to other parts of the Northland, like Cape Reinga and scenic flights to the upper region of the Northland, great if you don't have the time to head further north after your time here.
Their helicopters are small, they essentially only hold 4 people, 2 in the back, the pilot and one in the front. This means it is highly likely that if you book with your partner or just your friend that you will have an exclusive helicopter trip all to yourself! If they take a 3rd person on the trip, then, of course, this doesn't happen, but the odds are in your favour!
Dawn landed on top of the hole in the rock during one of their 35 minute trips, she tells me it was incredible! She said it was great to land on top of the island and be the only group of people on that island at that point in time. Plus she got to see the islands from a different perspective it left buzzing not just for hours but for days afterward. It was clearly the highlight of her trip!
Love History? Visit Waiting Treaty Grounds
Fancy your feet staying firmly on land? The bay of islands is rich with Maori history. The Waitangi Treaty Grounds is home to where the Treaty of NZ was signed, with over 506 hectares of land this place will easily entertain you for more than an afternoon. The grounds have an incredible visitors centre and top of the range museum which opened here just last year (2016) which is already winning awards. We were wowed by the new museum it really is worth the entrance fee alone.  You can also experience a traditional Maori Hangi here if you wish along with a performance in the Marae, (however, it is not as good as the performance centre's in Rotorua) the gardens are also worth a mention as you really do get a great view of the bays from another angle. This place is a must for any history buff!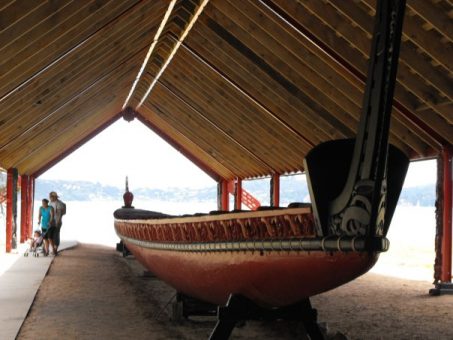 Got an extra day? Venture North.
Just an hours drive north is  Whangaroa Harbour it is totally worth the excursion, the harbour is full of history, it is very similar to the Bay of Islands but certainly untouched. It holds a special place in our hearts as this is where my family (Isaac) originates from, we have spent manyChristmas'ss and vacations up here. We never get bored of exploring somewhere new within the Northland, often known as the winter less North, we guarantee you that you will not be disappointed.
Enjoy guys!
Did you enjoy this article? We also have comprehensive guides on most destinations around the North Island check out our travel map for more articles like this.