We love visiting the Tongariro National Park, whether it is for a spot of hiking, rafting or getting onto the snow. Between June and October the mount becomes a winter wonderland and is the best time to visit if you're looking to enjoy the snow. Mt Ruapehu offers some of the best slopes for skiing and boarding and has the highest lift accessible peaks in New Zealand.
Mountain, what mountain?
You might be surprised to learn that Mt Ruapehu, isn't actually a mountain – it's a volcano, which last erupted back in 1996. Mt Ruapehu is ideal for a long weekend getaway and is reachable in around 4 hours from both Auckland & Wellington. There are two ski fields on Mt Ruapehu: Turoa & Whakapapa we choose Whakapapa for this trip as we heard they had a great beginners valley, also known as Happy Valley!
Photo: GNS
First Time?
If this is your first time skiing or snowboarding, or you haven't been on the slopes in a while we'd strongly recommend taking at least one day of lessons. At Whakapapa for $169 (same price for a little person) you get two almost two hour lessons, a Happy Valley lift pass, boots, snowboards or skis and poles for the day.
The lessons themselves are fairly basic: how to walk on the snow, stopping (very important) and turning pretty much. However if you have been skiing before but still consider your self to be a learner you will be bumped up to the "Next Step" lessons where you will learn to turn and stop more efficiently. Once you have the basics though you can easily enjoy Happy Valley!
I can't express enough, do try and go on a week day Happy Valley was extremely busy the weekend we went, kids everywhere, adults running into kids, kids running into adults! When you are just learning to turn yourself it is pretty hard to not bump into someone!
Top Tip: Just before your lesson do make sure you are well fed and watered, the two hour lesson can be quite strenuous!
Cheapskates Tip: If you are learning or don't own your own gear, Snow Centre in Auckland are the cheapest place to rent gear. They don't charge for the pick up and drop off days and just the amount of days in-between so all in all pretty handy! However you can't rent gloves, goggles or helmets from them. Ski Biz, 3989 in National Park were the next cheapest. We saved around $30 a day on equipment renting from these two businesses, if you go for a whole week, its a few lift passes and a tank of fuel.
Foodie Tip: The Station Café, 3989 (funnily enough at the National Park Village Train Station) has a mean eye steak for a very reasonable $30 bucks, wash it down with a glass of Syrah!
Logistics:
We stayed in the National Park Village, a 25 minute drive from the skiing up Bruce Road. If it snows or the weather isn't great the road up the Bruce might be closed or you might only be allowed to travel up if you have snow chains and/or a four wheel drive vehicle.
If like us you don't have chains or a 4×4, (you can hire them with your hire car) you can hitch or take the bus up the Bruce. The last bus back to Whakapapa village from Mt Ruapehu is 4:15pm and the first bus leaves for the snow at 8:15am, the bus cost is $20 NZD per person with MyKiwiAdventure which operates from Whakapapa Village Bus Stop.
Luckily this year the weather when we went was outstanding, but last year it was pretty grim! It was raining, very windy and visibility was very low which meant last year we could not get up to New Zealand's highest cafe, the Knoll Ridge Cafe (I heard they do the best hot chocolates).
This year however was a different story. Blue sky and great visibility meant me we could reach the Knoll Ridge Cafe and enjoy that Hot Chocolate (and chocolate cake!) it really was incredible!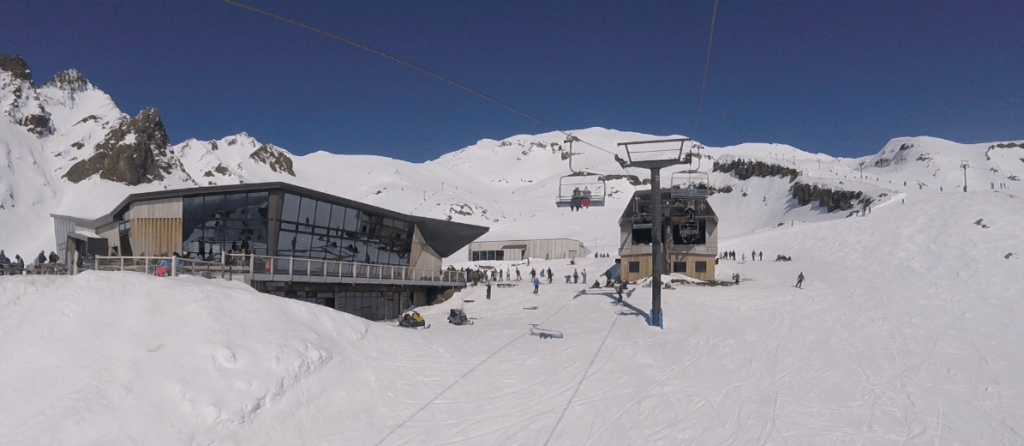 For more adventurous activities to do whilst you are in the region check out our top picks below.