For our next instalment of our Ultimate Itinerary Series, we thought we would put together all of the best adventure activities that this beaautiful country has to offer! After all, New Zealand is an adventurer's playground that can be consumed quite comfortably in 14 day, 14-night itinerary. This itinerary doesn't include every region in NZ as you would certainly need longer than 14 days but this route does include the best award-winning adventure activities that we think you should not miss!
Queenstown is often referred to NZ's adventure capital so with no time to spare this is where you should start! After an adrenaline filled couple of days in Queenstown we suggest you embark on a road trip of a lifetime in a campervan or a hire car concluding your journey in Auckland.
Not feeling so adventurous? If you would like some other itinerary ideas we got you covered – check out our 10 North Island Itinerary, our 10 South Island Itinerary. And our incredible See It All in 30 days itinerary.
Top Tip: If you want more information on each particular region/destination that we mention then do click on the hyperlinks within this article as it will link you through to our much more in-depth articles on that particular region/destination.
Please Note: All views are our own, this is not a sponsored post and as we have done the majority of these activities that is why we can confidently recommend the suppliers and the activities to you!
The Route: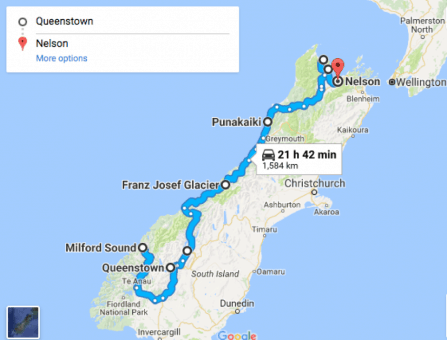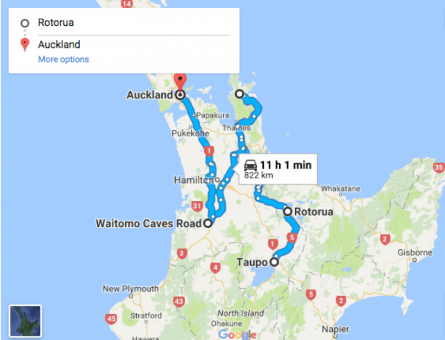 Highlights of this itinerary include:
Bungy jumping the world's first commercial bungee jump over the Kawarau River with AJ Hackett in Queenstown;
White Water Rafting on the Shotover River;
Kayak and explore the Milford Sound and Fiordland National Park at sunset;
Heli Hiking the Franz Josef glacier;
Kayak and hiking in the Abel Tasman National Park;
Get off-road in Rotorua
Embrace your fears – skydiving in Taupo!
Canyoning in the Coromandel perhaps the most challenging adventure of your trip!
Black Water Rafting in NZ's cave country, Waitomo.
The Itinerary:
Day 1: Arrive at Queenstown, go Bungee jumping!
Most international flights will arrive in Auckland if you have an early morning arrival we suggest flying straight down to Queenstown upon arrival and transfer to your accommodation of your choice for a two-night stay. You really wouldn't require a car for your time in Queenstown as the town is so compact and most of the activity providers will offer free transfers to the place where the activity actually is based.
In the afternoon, we suggest you hit the ground jumping, quite literally! With a bungee jump at the Kawarau Bridge courtesy of AJ Hackett. Transfers will can be organised from Queenstown.
Day 2: Explore the best of the best in Queenstown:
In the morning, we guarantee you will be thankful for a lie in, the jet lag may have caught up with you! If you are still feeling adventuress you could try your hand at the new crazes- Flyboarding or even White Water Sledging! Or how about something a bit more romantic? A Hot Air Balloon ride over the Otago region with champagne breakfast included.
No trip to Queenstown is complete without a trip out to the Shotover River. The jet boating excursion here is really popular but we loved getting soaked whilst White Water Rafting the Shotover River. Or for the real daredevils they even off a Heli Rafting option!
For more adventurous activities we suggest checking out the links below where you can book all of the above and more. The options for Queenstown really are endless!
Day 3: Travel to Te Anau, Explore Milford:
On this day pick up your campervan/ hire car and travel to Milford Sound (4-hour drive) for an overnight stay in the Fiordland National Park. In the afternoon Explore Milford Sound with a difference. A sunset kayak and Rosco's Milford Kayak on the Milford Sound, this is the best way of avoiding the crowds and see the sound at its best. Return to Te Anau for an overnight stay to break up your drive to Wanaka the following day,
Day 4: Stunning Wanaka:
Wanaka is often now given enough credit than its neighbour, Queenstown. However, there is still plenty of adventurous activities in this small lakeside town to make your overnight stay worthwhile. Something really fun and different would be the U Flying activity that Wanaka offers. It's a chance to see Mt Aspiring in a unique and different way, whilst flying your own plane J
Day 5: Travel to Franz Josef Glacier – Road Trip!
Now the real fun begins…Road Trip! An early start to travel to Haast Pass all the way to Franz Josef Glacier (4-hour drive tops). In the afternoon embark on a helicopter trip of a lifetime. Heli Hike the Franz Josef glacier – finishing in their hot pools (which is included in the package) to wind down after an exhilarating day.
Day 6: Explore Punakaiki
Travel to Punakaiki (3-hour drive) to explore the west coast and world famous Pancake Rocks. Maybe even explore the tremendous caves that Punakaiki has to offer. Or for something a little bit different we recommend a two-hour horse trek along the beach.
Day 7: Fall in love with The Abel Tasman National Park.
Travel to Abel Tasman National Park (3-hour drive), ditch the car/campervan and explore the Abel Tasman the right way. There are overnight kayaking and walking trips you can do in this beautifully stunning national park. We suggest staying overnight in Kaiteriteri ready for an early start in the morning.
Day 8 & 9: Get off the beaten track in the Abel Tasman National Park
Wilson's offer overnight kayaking and walking trips within the park itself, with all transfer at each end so you won't have to worry about a thing. They also have access to the most beautiful lodges if you want your stay to be extra special. If you don't mind a bit of camping then we recommend Abel Tasman Kayaks as they offer overnight walking, kayaking and camping trips within the park. They even supply all the equipment, all you have to do is bring your own food!
Day 10: Travel to Rotorua
Return your Campervan or hire car at Nelson Airport and to save time we suggest flying to Rotorua (via Wellington). Pick up a small hire car in Rotorua and discover the incredible geothermal activity that the region has to offer. Rotorua is the North Island answer to Queenstown, with a list of adventure activities as long as my arm! Off Road NZ have to offer the best 4WD adventure in the North Island, you even get to drive the car, it's pretty fun! We also suggest getting off the beaten track and discovering the geothermal hot spots at these free locations around the city!
Off roading isn't for everyone, if you'd prefer to go mountain biking for the day Rotorua's Whakarewarewa Red Woods Mountain Bike Park has New Zealand's finest mountain biking.
Day 11: Get Crazy in Taupo.
Time to get crazy…Sky Dive in Taupo (1-hour drive from Rotorua) the cheapest place in the world to sky drive. Your choice of options, 12,000ft, 15,000 ft or if you are true dare devil 18,500 ft! Video and photo packages also available. It is pretty epic!
Day 12: Visit the Coromandel Peninsula
Travel to the Coromandel Region (3.5-hour drive) – brace yourself for the best canyoning adventure in NZ around. The Sleeping God canyon tour is a vertical descent of over 300 metres, abseil, and jump and challenge yourself! You will have to leave Rotorua early for this excursion as it is an all-day activity but it is certainly worth it!
Day 13: Travel to Waitomo
Travel to Waitomo, cave country to try your hand at Black Water Rafting, caving with a difference! You will tube through the majestic Ruakuri Cave and float underground in the river in rubber tubes, through in a few waterfalls and drops and it can get pretty exciting!
Day 14: Discover Auckland
End your vacation the exact way you started it – with a jump. Embark on the Sky Jump and Sky Walk of Auckland Sky tower – Goodbye New Zealand – hello memories!
Please make sure you send us a postcard along the way! If you have longer than 14 days, check out our 30 day self drive itinerary of NZ.