In February we embarked on a 10 day self-drive trip of the South Island. It had been almost 6 years since we last visited the South Island so we were excited to visit all our favourite spots again and also visit areas we didn't get the chance to visit before.
As many of you know we had my parents visit us for 3 months and it was their first time here, it was important for all of us that we saw the best bits of the South Island without feeling like we were following the crowd, this is the route we choose and why we think everyone who is short on time should do the same!
Want a longer road trip? We got you covered – check out our 30 day New Zealand self drive itinerary
The Route: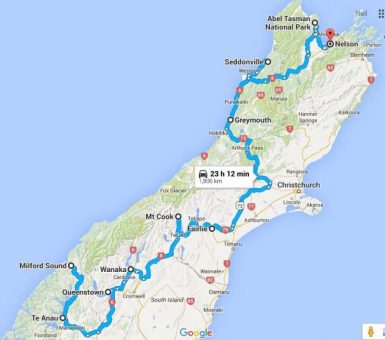 Day 1: Fly into Queenstown:
How Many Nights? 1 Night at Blue Peaks Lodge.
Why? None of our group are adrenaline junkies, so we decided one night would be enough here, the accommodation was also overpriced and we knew spending more time here would mean more damage to our wallets!
What did we do? We landed at midday and picked up our hire car from the airport. Me and Isaac went jet boating whilst the parents explored the town and the park. Last time we were here we missed out on going up the Gondola, this time we went all out and had the buffet meal, it was the best buffet meal I have ever had! The next day we also had time to check out Kawarau River and Gibbston Valley Winery for some wine tasting – nothing like drinking in the morning when you're on holiday!
What we would do again? Bite the bullet, expand the wallet and stay for longer! Yes even though everything in Queenstown is pretty much triple figures it doesn't mean the town has lost any of it's charm. Queenstown is a gem and exactly as I remembered it. The town has attitude, its funky, the locals are friendly and it really does make you feel like your whole life can become a holiday, it's a little bubble that you never quite want to leave!
And if you do decide to never leave or to stay longer, below are a few more activities that we would suggest are worth hanging around for:
Day 2: Travel to Te Anau (2 Hour Drive)
How Many Nights? 2 Nights at a BookaBach
Why? Queenstown was fully booked!
What did we do? After a morning at Karwau River near Queenstown we drove 2 hours to Te Anau. The drive was incredible, and incredibly easy! For a long while the road is straight and scenic. We had a fantastic 3 bedroom house half the price of the accommodation in Queenstown and it even had air con which made the men happy!
What we would do again? Nothing, it was a great idea to break up the drive to Milford Sound, you hear of people doing it all in one day from Queenstown and yes the drive Queenstown to Te Anau is an easy one it is quite a challenge to reach Milford after Te Anau – not one we would want to do in one day whilst tired!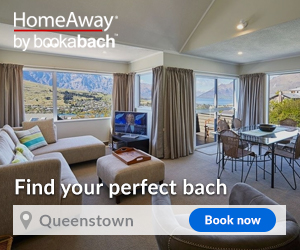 Day 3: Milford Sound (2 Hour Drive from Te Anau)
Why? We didn't get to see this 6 years ago and it is my mums top #NZMustDo
What did we do? 11am Milford Sound Nature Cruise with Southern Discoveries.
What we would do again? Nothing! The time of the cruise was perfect, the road was not busy, the car park was not full and the ferry wasn't full. However when we got back to the visitor centre after the cruise the visitor centre was packed! We drove back to Te Anau around 3pm and didn't find the road busy, we did hear of an accident later that afternoon so we were glad we took the initiative and left before all the coaches.
Day 4: Drive to Wanaka (3 Hour Drive via Cardrona)
How many nights? 1 Night but in an Air BnB at Lake Hawea
Why? Wanaka was sold out, Lake Hawea was off the beaten track!
What did we do? Today was quite a bit of driving, 3 hours to Wanaka via a lunch time stop in Arrowtown and an afternoon tea stop at the world famous Cardrona Hotel. It made the day very long. We didn't have much time to explore Wanaka after driving the incredible roads to Cardrona!
What we would do again? Again stay longer! We love Wanaka, and I would have liked my parents to see more of the town and the lake. Plus the Air BnB we were in was 5 star quality with friendly hosts.
Day 5: Drive to Fairlie (3 Hour Drive)
How many nights? 1 Night at BookaBach in Fairlie
Why? Tekapo was sold out!
What did we do? Again a long day on the road, but this was a road trip after all! Lake Pukaki was a highlight of our day as well as Tekapo. Isaac had a dip in the cold lake (it was the hottest day of the year at 30 degrees) over lunch and the drive up Mt John was incredible, however it was just too hot to enjoy the views for longer – we seriously thought we were melting!
What we would do again? Stay longer and make it too Mt Cook. When we got to the view point at Lake Pukaki and we could see Mt Cook in the distance and I think we all felt a sense of disappointment that we didn't have time to drive up to Mt Cook and explore the national park at a more relaxed pace.
Day 6: Drive to Greymouth (5 Hour Drive via Arthurs Pass)
How many nights? 1 Night at Bella Vista Motel, Greymouth
Why? We wanted to see Arthurs Pass and knew Greymouth was just a pit stop after a long day's drive.
What did we do? This was our longest drive day by far but we had to do this as there was pretty much no accommodation between Fairlie and Greymouth. We considered going to Christchurch and up the east coast but I wanted the parents to have a taste of the incredible west coast and of course the Abel Tasman National Park.
What we would do again? It was the only day of the holiday that it rained, but it we had longer I am sure the walks at Arthurs Pass village would of been amazing, I felt like because of the rain we didn't see as much as we had hoped for! For this reason I nicknamed it "Arthurs Ass", but looking back I may have been a bit unfair!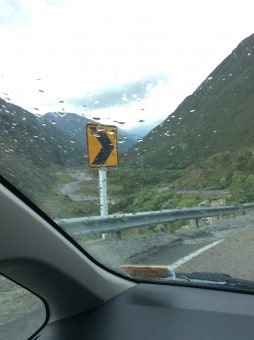 Day 7: Drive to Sedonville (2 Hour Drive)
How many nights? 1 Night at Rough and Tumble Bush Lodge
Why? I wanted the parents to spend a night in the bush, and not be roughing it! We didn't know what to expect but it was good fun!
What did we do? A two hour drive from Greymouth is a tiny settlement known as Seddonville the home of the start of the cycling trail "The Old Ghost Road" I stumbled upon this lodge online built by a American who fell in love with the seclusion of the spot, it's not hard to see why, the lodge is right on the river bed and extremely peaceful. Our host Weasel was incredibly friendly, good fun, his cooking skills were top notch and we spent our night drinking beer and playing dominoes in there cosy lounge area. I felt like a child again and this is one of those nights I will remember for a long time, in the bush drinking beer with my parents –in NZ – sometimes dreams do come true!
What we would do again? Do I have to say it again? STAY LONGER!
Day 8: Drive to Ruby Bay, close to Abel Tasman National Park (3.5 Hour Drive)
How many nights? 2 Nights at a BookaBach, the cutest Bach we have ever seen.
Why? We wanted our final two nights to not be on the move! The parents had never done a road trip like this so I knew they would appreciate this. I didn't expect my Mum to fall in love with the Bach, she didn't want to leave!
What did we do? We took the parent to Buller Gorge on the way, we had fond memories of this place from 6 years ago and we wanted to show the parents this place. It is home to NZ longest swing bridge, I purposely left this information out when I told the parents about it. Well NZ is home to the adrenaline junkie and that day Mum and Dad become one!
What we would do again? Nothing we had to do this drive to get to Abel Tasman, it was good fun!
Day 9: Abel Tasman National Park
Why? I had heard so much about this place and regretted not going 6 years ago.
What did we do? Today we split up, me and Isaac had the pleasure of enjoying a kayaking trip with Abel Tasman Sea Kayak's and the parents took the boat to Torrent Bay, they really enjoyed there day relaxing on the beach.
What we would do again? STAY FOR LONGER! And for us camp at the National Park, we were impressed at the quality of the campsites – flushing toilets!
Day 10: Fly out of Nelson back to Auckland
Why? I had to go to work the next day 🙁
What did we do? Our trip was over, we returned our hire car and flew home.
What we would do again? Fly out later, we only touched upon Nelson and felt like a morning there would have been nice, but we opted for the earlier flight in case the other ones were delayed – were a bit like that – over cautious!
So there you have it, the South Island in 10 days, my top tip if I had to do it all over again? 2 nights in each place and use Air BnB and Book a Bach, you meet the locals, find some unique spots and by staying a few nights in each area you really get to explore each region you visit at a slower pace!
Until Next Time South Island!
Visiting the North Island too? Check out our 10-day itinerary for your North Island road trip!