Finding books about New Zealand can be a little tricky. When we moved to New Zealand in 2014 we could only find a handful of New Zealand books online that we found useful. I wanted to learn about the Maori history, the culture, the ever so debatable Waitangi Treaty and I also wanted to read books by people who have moved to New Zealand. I wanted to learn from their struggles and here their migration stories.
A few of these books I read at the time of our move and a few of these New Zealand books I have discovered since. In no particular order; here are ten (well eight, if you don't have kids!) of our favourite New Zealand books.
This is a story of two American city boys who moved to New Zealand and ended up owning an Olive farm. And guess what? They had no clue what they were getting themselves into! This book describes the first four years of their lives in NZ, with them being American and me being British I still found the book incredibly relatable. It was like they were reading my diary entries from six years ago when we first moved to NZ. This is a must for anyone thinking of relocating to NZ from the bright lights of a city thousands of miles away from NZ.
The author Miriam Lancewood has become a bit of a famous figure in NZ over the last few years. The kiwis truly do love her! Her first connection to NZ was when she was in India and she met a middle-aged man from NZ who was 'discovering himself', it seems she was doing the same. They instantly connected and started dating, then they moved to New Zealand. First, they lived a normal life, rented a house, got jobs but then in 2010 they packed that all in sold all they owned and decided to live in the bush. They camped under the stars, foraged for food and lived back to basics.  They lived this way for over seven years. This might possibly the most insightful book about what the bush in NZ is really like. It's pretty inspiring stuff that you might just want to give up societal life, make your self a bow and arrow and live in a tent after this one!
This is one of the first books we purchased about NZ in 2009 (the year we travelled to NZ as tourists for six months) and it quickly became our bible. Lonely Planet has this incredible skill of giving you the briefest information on every single region in NZ whilst making you feel you have all the information you should ever need to explore NZ. If you are travelling to NZ for a week, a month or even a year this should be your go-to book!
---
New Zealand books for the Kids:
I didn't want to forget the kids here, if a move to New Zealand is on your horizon for your family it is important that the children also get excited about what you are all about the embark on. They may be feeling a little anxious themselves and I believe this book is a fun way for them to discover New Zealand. From history, geography, flags and symbols, wildlife and culture the kids will be teaching you a thing or two about NZ before you know!
This is another one for the kids, or perhaps the older kids of your tribe. This is a very visual educational book that very much focuses on the geographical location of NZ. What is in our waters, the land, the environment? All through a mixture of charts, graphs, diagrams, maps and illustrations, perfect for the more visual learner. 
---
I have to admit I have only recently discovered this book. Christina Thompson is an American lady who fell in love with a Maori guy – she rights incredibly well and it jumps between the history of NZ and her love/life story nicely. This is a great one if you want to understand the differences between the culture of Maori and Pakeha (a term used to describe a White New Zealander of European descent), as I read this book some of the things she mentions completely hit home with me as I have witnessed a few similar interactions with my husbands NZ family and it has helped me understand them a whole lot better.
If Come on Shore and We Will Kill and Eat You All spiked your interest in Maori History and war times then this book will give you all you need to know about this era. Hongi Hika was a New Zealand Māori rangatira (chief) and war leader of the Ngāpuhi iwi tribe (Bay of Islands region). He famously sailed to England and met King George IV who presented him with a suit of armour which he was later to wore at a battle in NZ. He is one of my husband's ancestor's and the family have a direct lineage to his tribe. When I found this out I purchased this book for my husband on his 26th birthday, it sits pride of place in our lounge.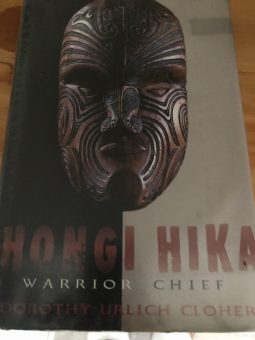 New Zealand history with the British colonisation is a deep and often deemed a complex topic. Which version of the Treaty of Waitangi is the most accurate? This book really delves into this topic due to the large amounts of research the author undertook to complete this book. 
This book just allows you to make sense of the behaviours and societal attitudes of the people who live in this country, something that is deeply rooted within their bones. I have often said in my blog posts that New Zealanders are the most genuine, kind and trusted bunch of people I have come across. I found this book incredibly thought-provoking about how important it is to project positivity into this world. This book will leave you with a smile on your face.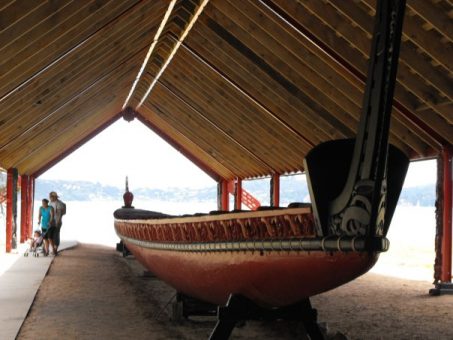 This New Zealand book recommendation article would not be complete without a mention of the guide I created about NZ. In 2020 (during lockdown) I found myself with more spare time than normal (didn't we all?!) so I decided to embark on a project I had been thinking about for the last six years. 
I created this website as at the time of our move to NZ there was a distinct lack of knowledge and information on the internet available about the logistics of a move to New Zealand. I also found it difficult to find the right places for the right resources. This guide does all that for you and will become your go-to resource during every step of your journey, even when you do eventually move to NZ.
To find out more about the guide visit this page, we have helped over 100 of our readers so far face their toughest challenges about their move to New Zealand. I really believe that it can help you too.