New Zealand has always been one of the most popular destinations to travel and to settle, especially for Europeans. With a massive 3.2 million people arriving into the country in 2016 alone! A figure that is up by 10.4% from the previous year and only set to grow for this coming season.
With New Zealand's agreeable climate, spectacular green and diverse landscapes, a strong economy and long consistent summers, it is not hard to understand why! Disclaimer: We are a little bias, as we live in New Zealand!
The decision to move here, however, isn't always easy! Research takes time, it took us 5 years to finally make the move. A lot of that time was spent pondering over the decision and doing research on what life might be like in New Zealand. You can find out more about how we ended up in New Zealand here.
Now we are in our third year in NZ and we haven't looked back and we can't express enough that research is key to not having any nasty surprises when you get here. The more you research the more comfortable you will be in your new surroundings. This is exactly why we created this blog to ease your research process, as we sure did find the research process a struggle!
Top Tip: If this process has taught us anything over the years it is that we have learned not to compare everything to our old lives in England. A small example is that we spent the first year and a half on our currency apps comparing the exchange rate and the cost of things here to the point it got us quite down and it wasn't a healthy habit!
Here are our top 6 things we suggest you research before moving to New Zealand:
1) Visas – Can you stay?
The legality of moving to New Zealand should be high on the list of your priorities. If you are under 30 you can come on a Working Holiday Visa if you have a job to come out to you are golden and if you have a partner who is a Kiwi you will be sorted.
My first port of call at the time was ringing the Immigration Department and telling them my life story (the poor woman on the phone!) a lot of people visit the website and get confused about what visa they are eligible for – do yourself a favour and save yourself some time and pick up the phone!
2) Compare your financial position before moving to New Zealand.
I know we just mentioned comparing the cost of things in your home country shouldn't be done, but it is important to advise to compare your financial position once you are here. This is the one thing you should compare! The cost of living in NZ has been documented to be significantly higher, however it is swings and round about situation.
Visit Seek (a great job seeking website) to gauge what your income will be in the industry you work in, explore TradeMe (like Ebay but with houses) to find out the cost of houses and rental prices in the town you want to live in and check out Glimp to find out the cost of power, broadband and compare it to your current costs. Once you are fully informed you can decide on whether this move is right for you.
3) Where to live?
This one might be a no-brainer if you have family in NZ, it really helps to have that support network when you first move here. Your decision may be based on your job or your financial situation. Auckland can be expensive to buy and rent and Wellington is more affordable check out Trade me for rental or purchasing costs in the region you are thinking, just know what you can afford be prepared to compromise and you should be sweet.
4) Healthcare – Are you covered?
The short answer is yes. Travel Insurance would be advised initially and after this NZ really does have a good free health care system. NZ healthcare does treat everybody who has an injury as a result of "accident" (Not just car accidents), even if you are a tourist visiting for a day! This is subsided by the Accident Compensation Corporation, (ACC) you will find that if you work a small amount of your wages are taken out to cover this system. Other treatments would be free however NZ does seem to have a bad reputation with waiting times so must people take out private health insurance for this reason.
5) What shall I do with all my belonging?
You may just be bringing a suitcase and that is fine! But if you have a whole house filled with household items your best bet is to ship them over here. You will be surprised how much house hold appliances and furniture cost here. Moving Pros are a great contact to compare the cost of international removal company's, our experience was a positive one but there are a lot of suppliers out there that seem to just get this wrong so it does pay to spend a bit of time doing your research on this one!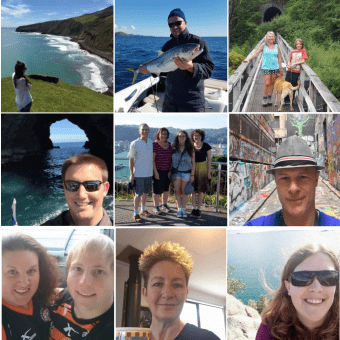 6) Be Real : Is the grass always greener?
Sometimes a dream or an idea of the perfect life over here can capture you so much you forget about reality. The reality of still having to work, paying for unexpected things upon arrival, the struggle to find a place to live whilst missing your family and friends.
We suggest speaking to other people who have made the move to see what their coping mechanisms are. We are a big fan of the Brits of New Zealand Facebook page, a friendly bunch of people that keep it real. We recently launched a successful interview series where we interviewed 15 expats who have been in NZ on a long-term basis. Their coping mechanisms and views on how their lives have changed was really inspirational and we learnt a lot from them!
If this article has really helped you and you are serious in your venture our Moving to New Zealand Checklist can be downloaded for free we guarantee this will be really helpful to you!