Ever since we have returned back from our trip to England in late March we have felt like we have been living in limbo! Now that we live in our RV full time, we just found our selves stuck on making some decisions! We didn't know where to keep the bus, we didn't know where we wanted to go to next and more to the point we both had a hell of a lot of work to catch up!

Six weeks in England and Asia meant we needed to just stay still a little bit and focus on our work, so we spent the best part of April working and what felt like existing in Wellington. We also used this time to sell our car and swap it for some bikes 🙂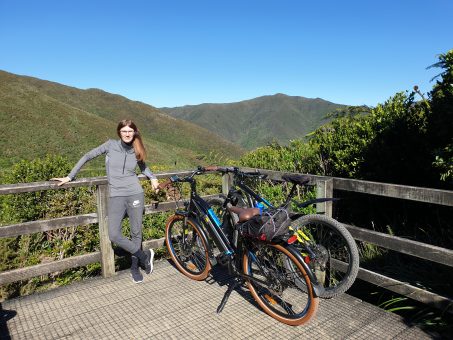 So Where Have we Actually Been?
We spent Easter in this lovely Wellington Council Run Campground called Kaitoke  Regional Park. On its door step was the Rimutaka Cycle Trail which we completed with our newly purchased bikes, it was such a lovely time that we just keep paying daily and not moving on! But then we ran out of food, so we were forced to leave!

Then may came around and it hit us, this inept ability to make any damn decisions on where to visit next or how to resolve our problematic RV maintenance issues that we have since discovered since returning from England. Ever since we have returned we have had issue after issue with the Motorhome and our daily lives have been work, fix the bus, ring around try and find a reliable repair company, figure out if we need gas or water or petrol or the laundrette or the supermarket anytime soon, eat, sleep repeat.

For ease, we were finding ourselves parked up outside of Wellington in a NZMCA spot just not really achieving a lot!

After a grump of a day I came across fellow RV bloggers Heath and Alyssa's article and everything just made sense, I shouted across to Isaac (not so loudly!), Isaac we have been diagnosed! We have deicison fatique. And the best bit advice in the article said this:

Make a decision and if its the wrong decision just fix it!



So we did and now a week later we are in wonderful rural Canterbury getting our RV looked at by a specialist down here whilst we get back to living in RV and enjoying the experience again. We didn't expect to have to adjust back to living in an RV when we returned from England but we did, and it has certainly taken longer than expected!

With winter rolling in quite quickly now it certainly has hurried our decision making along, we have to get the RV fixed this winter and put it in storage again for our next part of adventures of 2019 – Australia. Next month we will be embarking on a 2 month 'Escape the NZ winter' workcation in Australia. But between now and then I need to explain to Isaac what the word workcation actually means, as I am sure if I don't all he will be doing is working!
Check back next week as we will be posting our article about our time away in England.