Do you ever struggle with meal plans? I know we certainly do! Going to the supermarket every week is the process of adulting that I despise. Even back in England, we would organise a weekly shop of basics to be delivered to us by the big leaders, Tescos or Asda but here trying to use the Countdown or New World online shopping site is stressful, it's not user-friendly in any way!
The supermarkets try their best to inspire recipes and cooking but they just can't get the formula right.
Since we arrived in NZ we have been trying to find different ways to get out of going to the supermarket. We have been delighted to discover kiwis love the local markets (pretty much every town has its own) but have still been finding ourselves needing a trip to the supermarket on a weekly basis.
We have heard about food/meal kits delivery services that operate from a subscription-based service (they are popular in London but in Cornwall they are rare) and I am sure all you have to (unless you have been hiding under a rock!) and in the three years we have been here they have gained in popularity in NZ so we decided enough was enough we had to try them!

We have already written about the cost of living in New Zealand and food costs as we soon discovered are more expensive here than in the UK, so if the price is higher why not eat in style?!
We decided to try the three big players in the meal kit market WOOP, HelloFresh and My Food Bag, and here is our review.
Disclaimer: This article wouldn't be possible without the assistance of WOOP, HelloFresh & My Food Bag who kindly let us try a food kit for a week.
My Food Bag.
Understandably the pioneers of the industry who have been around since 2013 when New Zealand's Masterchef winner Nadia Lim became the 'face' of My Food Bag. With an excellent team behind her, they have created a great brand, you can't help but fall in love with the website and the ideology behind the brand. As a couple in our 30's, we decided to opt for the 4-night Gourmet Bag option that both fitted our eating styles as well as budget.
The Variety:
From a first look, you can see that they offer an expansive selection of recipes and bag options. They have slowly over the years thought of every market. They cater for families with small children, families with older children (teenagers), vegetarians, gluten-free, plant-based options, people who live on their own and have even branched out to "Heat and Eat" packs, lunch boxes for kids, fruit boxes and more budget-friendly options with their sister companies Bargain Box and Fresh Start, encouraging healthy eating.
Ease:
The meals are easily ordered online, and they also offer the option to swap some of the meals that aren't as exciting for something more to your preference. They also allow you to skip and pause delivery if you require it. They deliver at a time that is convenient for you (Sunday or Monday) and have thought about the fact that people may be at work so can deliver in the evenings. Although interestingly the meals didn't come in a bag but in a rather large and heavy box!
Cooking the meals we did find took longer to create than mentioned in the recipe cards. Some of them a lot longer! I always find it a struggle to chop up the vegetables at the speed of light and struggle with multi-tasking so I am not sure if their recipe cards are completely accurate for the more amateur cook.
Some of the meals also had a lot of different components which were slightly fiddly. One of the best meals we had was the Ricotta Dumplings with Chorizo mince. The flavours were incredible and not something we would either think of combining but it was quite fiddly to create and again not something the average cook at home would find a breeze.
What we loved:
Hands down we loved the flavours, all the meals had the restaurant-quality wow factor. And you feel quite proud of the food you had created. We also loved the portions, for 3 of the meals we had enough for lunch for the next day. It tasted even better the next day!
Price Point:
Bags vary from $109.99 (bag for one person) to $224.99 (but that's a 5 meal option for 4 people) so for weekly eating goes it's not the best value. Especially when you have to consider lunches, weekly basics, and 2-3 other weekly night meals. For the price, you have to force yourself to focus on the other benefits, the ease, the convenience, the variety, and the quality.
It is however worth giving their introductory offer a go, as they are currently offering 50% off your first purchase! Just click on this link 🙂 to sign up and try it out 🙂
My Food Bag also owns other Meal Kit brands that you may have heard of and they currently offer some great introductory offers that are hard to refuse! To find out more about each brand just click on each link below.
Bargain Box is suitable for families with busy lives, they are currently offering 50% off your first order 🙂
Fresh Start offers some mouth-watering yummy options and each meal is less than 450 calories to help you lose weight. Designed by a top team of nutritionists to ensure you still get a healthy balance of your daily vitamins and proteins. To find out more and to get 50% off your first order click on this link 🙂
Made is another brand that My Food Bag own. They deliver fresh and fast ready-made meals to your door, perfect for lunch, dinner and they even offer deserts! Meals are from local New Zealand produce and free-range or free-farmed meats. With 50% off your first order, these meals are certainly worth a try!
WOOP:
WOOP is short for World On Our Plate. The concept is easy and creative, each meal represents a certain region and country around the world. It differs each week and that is what makes it exciting. They don't have a national celebrity behind the face of their product but with their fun and exciting branding, it isn't really necessary. They focus on eliminating the stress of weeknight cooking by speeding up the process of cooking your dinner. So whether that is part cooking an element of the dish, the vegetables already being chopped up, the sauce already made they got you. We opted for the 4 night Foodie Box, which interestingly is just $1 more than the My Food Bags Gourmet Bag option.
The Variety:
They only offer 5 different box options, The Foodies Box, A Classic Box (for families with kids) a Gluten Free box, and a veggie box. They now also offer a 'Balanced Box' all created around healthy eating. You can opt for a 3 night or 4-night package's (no 5 nights) and opt for how many people the box is for.
Ease:
The meals are easily ordered online and they offer a weekly subscription which you can pause and swap before the Monday evening cut off point. They deliver on a Sunday or a Monday at the time you require (and not during working hours) and the meals come in a small box (smaller than I expected!) keeping packaging down to a minimum.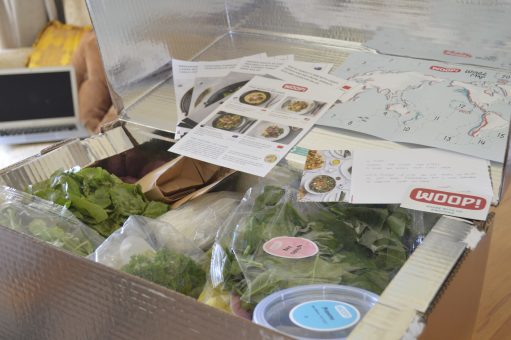 Cooking the meals was easier than we expected, in fact, a breeze. Everything for that particular meal is colour coded so it was really easy to find all the items in the fridge. As most of the prep was done for you we just cooked the food and appreciated the timings were right on the recipe cards. Weeknights can be hectic and you can be tired (sometimes you just don't feel like cooking!) so having a speedy but delicious dinner to cook at the end of the day is very much appreciated!
As most of the items are pre-prepared I did worry about how long things would last if we didn't eat them on the day they recommend. For example, we decided to have the meatballs with the part boiled kumara two days later due to mid-week socializing plans. When we opened the package the potatoes looked like they were on their last legs. If you cook the food on the day that they are intended to be cooked then I think you would be fine!
What we loved:
As quite an environmentally conscious couple we did appreciate the less packaging that was used. We also loved the loyalty scheme something that is very well thought out. On your first order, you get a coloured map with stickers to collect on the countries around the world, every week you order you get more. At bag 6 and 12 you get a gift (not sure what it is mind!) and at bag 20 you get a free bag that week. It's fun, it's exciting to collect something children would love as well I am sure.
The flavours were also up there and we also had enough for leftover's three out of the four meals, something we didn't expect as the box was a little smaller than we expected!
Price Point:
Bags vary from $99 (bag for one person) to $295 (but that's a 5 meal option for 4 adults for the Foodie Box) so for weekly eating goes again it's not the best value. But you have to focus on the other benefits, the speed it takes to cook these meals, the ease of not having to go to the supermarket, the variety, and the quality.
HelloFresh:
The Variety:
HelloFresh offers essentially 3 different meal plans, a meat and veggie plan, a vegetarian plan, and a family-friendly plan. You can opt for 3-5 night options and for 2-4 people options. No single option is available, but if you select a 2 person option there would certainly be enough for lunch the following day!
Ease:
The meals are easily ordered online and you can pause or cancel your subscription at any stage. The cut-off point for the following week is Tuesday night so this gives you plenty of time to decide if you want a plan the following week. They also have this great app you can use on your Ipad or Android phone where you can edit your order in advance, great for when you're on the run and not at home!
Delivery for us was on a Tuesday (no evening time offered) but I believe these changes depending on what region you live in. It came in a good-sized reusable box that wasn't too heavy. They left it on my doorstep (there are big ice blocks in the box keeping everything fresh) and sent me an email when it had been delivered. Everything arrives in 5 individual colour-coded bags, so it was easy to grab them out of the box and put them straight in the fridge, which made unpacking the box super easy and quick!
When it came to cooking the meals the organisation of getting the ingredients together was super quick, I simply had to pick up the bag I wanted out of my fridge and start cooking. I did again find the timings weren't exactly accurate, two of the meals required roasting potatoes and pumpkin in the oven, our oven is not the greatest and things always take a lot longer so this did double up our cooking time. But I am sure if you have a good oven this is not a problem for you!
What we loved:
Hands down we loved that they delivered exactly what they promised. Out of all of the meal kits, the food was the freshest we had delivered to us. The process to book a plan was easy and the app was fun to use!
The menu cards were also really clear and simple to follow and as an environmentally conscious couple, we were also happy with how much of the items were recyclable!
I have done a more in-depth review of HelloFresh in another article, you can read it here!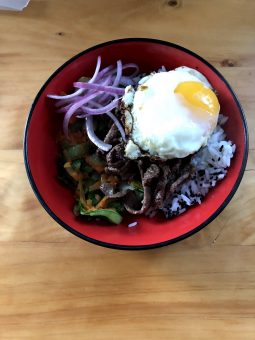 We strongly recommend giving HelloFresh as they are a great affordable option. To get $120 off your first four HelloFresh boxes (remember you can pause or skip any week you like) just click on this link to sign up. I found the sign-up process the quickest of them all.
Price Point:
Bags vary starting from around $95 for a 3 night, 2 person Meat and Veggie plan to around $167 which is for the Family Friendly plan which is ideal for 4 people and over 5 nights. The pricing on the website is a little confusing as they advertise per serving (so per person) and then advertise the delivery cost (the others advertise the delivery as free but I am sure they hide it in the cost of the plan) Which means you have to get your calculator out to figure out your total cost. It would be great if it could be more straightforward for people!
We found ourselves finally being excited about what we were cooking. From the anticipation of waiting for the delivery, opening the boxes, discovering the ingredients to the cooking and creating the meal. It made our midweek nights something to look forward too.
Although all of them tick our boxes in the fact that each week or fortnightly we are eating exciting meals we never would have thought of cooking. One problem we still have is needing the staples. We have found we needed to double stock up at the supermarket and we still need to visit around once a month. We think we can cope with that and the extra expense because actually enjoying what we are eating is more important to us than ever.
A downfall is the meals also are also not for 7 days, (surely that is something that appeals to people!) however, I believe the theory behind is that the average household eats out once or twice a week or eats a freezer 'look what I prepared earlier meal'. Which I know is something we do.
In summary, during doing all of the meal kits we found ourselves cooking together as a couple with a glass of wine in hand and with our busy lives it was a bonding time that we would never have had otherwise and I am sure if families order the bags this would be the case as well. After all, isn't food about bringing people together?! And in our opinion that is priceless.
Thanks for reading guys! Out of interest what food bag do you think you would like to try? Or have you tried any of them before? What did you think of the concept and the meals? Let us know in the comments below!