Are you considering living in New Zealand? If so, we've put together a list of the pros and cons of living in New Zealand to help make your decision-making process easier!
After almost 6 years of us living in New Zealand, we certainly have spent a lot of time pondering the disadvantages of living in New Zealand and also the benefits of living in New Zealand! We hope this article will help you to get a clearer picture of whether or not New Zealand life will be the right fit for you. Let's start with the pros…
The pros of living in New Zealand:
New Zealand really is picture-perfect.
It may sound cliche, but living in New Zealand often feels like living in a gallery full of beautiful (Instagram) pictures. With every kind of natural landscape found in a country roughly the same size as the United Kingdom, you don't have to travel far to find breath-taking beauty.
Whether you live in the suburbs of the biggest city of Auckland or the heart of the countryside you are never far from beautiful views. The Auckland region is surrounded by heaps of stunning beaches and trust us when we say the rest of the country only gets better!
Whether it's the sweeping sand dunes of 90-mile beach in the north or the mountain passes of the Southern Alps in the south you will find it hard not to stop and stare at the view every time you drive somewhere new.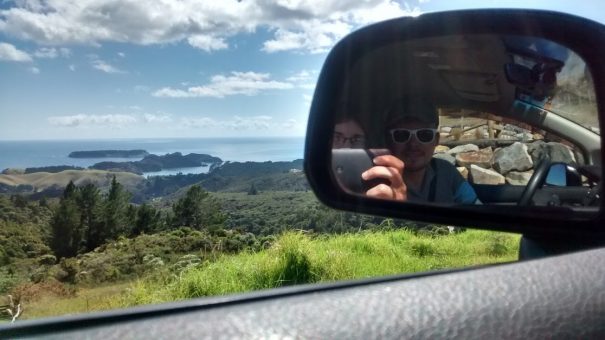 Aotearoa New Zealand embraces its cultural heritage.
Aotearoa, as the country is called in the language of its local Māori people, was first settled around 700 years ago by people from Polynesia.
Though there have been many grievances between European settlers and the indigenous people of the land, New Zealand has held onto and embraced the beautiful Māori culture which is proudly displayed throughout the country.
From the rousing haka performed at the start of each All Blacks match, to the artwork and carvings displayed in public spaces and the place names which you might eventually learn to pronounce like a local, the culture of this country's first inhabitants is embraced and shared with its visitors.
When you visit we guarantee you will feel the pride of their cultural heritage the same way that we did!
You can always find something fun to do outdoors for free.
If you are a nature and adventure lover you will fit right into the New Zealand lifestyle. With 15,000 kilometers of coastline and an extensive network of publicly owned parks, there is a lot that you can fill your spare time with that will cost you no more than the fuel to get there.
If you are a water lover you will be spoilt for choice for beautiful beaches whether you want to surf, swim or just relax on the sand. Summer holidays are easy to plan when you know you can pick a coastal town to visit and just chill out by the sea.
For those of you who love hiking the Department of Conservation manages an extensive network of walking tracks throughout the many national parks that can be accessed free of charge. Yes, that is not a typo – FREE of charge! These tracks range from easy strolls through the urban parks of Auckland to multi-day mountain hikes around the Southern Alps.
Great local food and coffee
New Zealand's economy relies on the success of its agricultural and horticultural industries which is brilliant for those who live here as it means there is great food and produce to be found.
Especially if you are a fan of a farm-to-table and eco-conscious lifestyle then New Zealand is a fantastic place to live. Fresh, local and seasonal produce is easy to come by at the many weekend farmers markets, butchers and locally owned supermarkets. Or you can simply catch it yourself…
New Zealand also has great coffee and cafe culture with a number of acclaimed restaurants throughout the country for all of the foodies out there to enjoy.
The Cons of living in New Zealand:
The weather is sometimes not that great.
One thing that you learn from living in New Zealand quite quickly is that you should always have an umbrella handy, even in the summer. Whilst the country enjoys a temperate climate with lovely summers, it also sees high amounts of rainfall with fairly wet winters, especially Auckland!
Auckland is well known for its eclectic weather with sudden downpours followed by sunshine, followed by more rain. If you choose the capital Wellington as home, you'll soon learn that the Windy City isn't just a cute nickname.
And though there is a lot of sunshine to enjoy whilst living here, this brings with it a high risk of skin cancer. Unfortunately, New Zealand is right under a hole in the ozone layer, making the risk of sunburn and melanoma extremely high.
Life can get a little quiet.
With a population of just over five million, New Zealand is sometimes lacking in the nightlife and festival front and can seem a little quiet.
Though there is nightlife and fun bars in the bigger cities, the smaller towns around the country can seem a little boring for those used to a busier and more vibrant lifestyle.
New Zealand is very well known for its laid-back, carefree lifestyle. Kiwi's often enjoy a quiet weekend spent with good friends over a wild night out on the town.
Things can get a bit expensive
Though New Zealand has many free activities on offer and in-season produce is cheap, it is known for a high cost of living. To find out how high exactly, do check out our cost of living in New Zealand article.
In the biggest cities housing costs are high and rising, as are the costs of many goods. Most items need to be imported and with little competition, this can make a lot of things more expensive than you are used to back home.
Make sure you thoroughly research the cost of living in the areas that you are interested in before making the move. You can do this by comparing your current lifestyle with the one you might live once you are living in New Zealand. Our handy cost of living tool can help you figure all this out!
It's a long way from the rest of the world.
When you live in New Zealand you are living at the 'bottom of the world' and it can feel isolated when you consider you are about a three-hour flight from your nearest South Pacific neighbours.
Though there are plenty of flights each day from the main centers to connect you to the rest of the world, it's nothing like Europe where you can jet off to any number of foreign countries for a long weekend.
For those who like to visit family regularly and go on frequent holidays abroad, this can make life in New Zealand tough. The cost of flights and time needed to justify these trips is much higher than you will be used to back home.
However, when you consider what you gain from living in a country with so much to offer in day-to-day life, this may be a sacrifice you are prepared to make.
For more information on what it is like living in New Zealand check out our living in New Zealand section here!