Organising weekly meal plans and trips to the supermarket is a pet peeve of mine! When we moved from England to New Zealand I discovered that NZ loves their meal delivery services and after a bit of online research I decided I needed to find out what all the fuss was about.
Meal kit delivery services in New Zealand are certainly rising in popularity, a lot of my friends use different ones so I thought I would give HelloFresh a review and trial, this is my review of HelloFresh's meal kit delivery service.
Disclaimer: This article wouldn't be possible without the assistance of HelloFresh who kindly let us try a food kit for a week.
So how exactly does HelloFresh work?
HelloFresh is essentially a food subscription box that you can order online via their website or their app, they deliver the freshest (and I mean the freshest!) ingredients along with easy-to-follow recipe cards to your door each week.
You can skip, pause, or cancel your subscription at any time and also switch plans if needs be. Our cut off day was Tuesday night (but I believe this differs depending on what region you are from) to do this for the following Tuesday. You even get a chance to swap a few meals or add a dessert or a few side dishes into your weekly subscription if you fancy it! For example our plan that week had two chicken-based meals and as I don't like to eat a lot of chicken I was able to swap one of these for a vegetarian meal.
The recipe cards are really easy to follow, you are required to have a few essential items (like eggs, oil, etc) in your pantry already to complete the meals so this doesn't completely eliminate a visit to your local supermarket but you could certainly get by with only going to the supermarket on a monthly basis when subscribing to HelloFresh.
If you are not home the box (that's not too heavy) will get left on your doorstep (or somewhere else if you tell them) and will stay fresh until you get home as there is plenty of insulation and ice packs in the box.
Inside the box are essentially five different paper bags with the ingredients in (plus the insulation bag with the colder items) so it's really easy to just pop the bags in your fridge. They are also colour coded which makes everything easy to distinguish what ingredients are for what meals.
The Food:
We opted for the five-day meat and veggie plan for two people as it most suited our household needs. They also offer this meal plan for 4 people and also offer a family-friendly plan (4-5 meals for 4 people) and a vegetarian option for 3-4 nights for either 2 or 4 people. You can get a sneak peek of what is in each meal plan before you sign up – warning, it will make you hungry!
Out of all the meals kits, we have tried the food was the freshest we have received, nothing was bruised or damaged. 🙂 The ingredients also lasted a lot longer than the five days (we ate out on day four meaning our meals lasted us until Sunday instead of Saturday).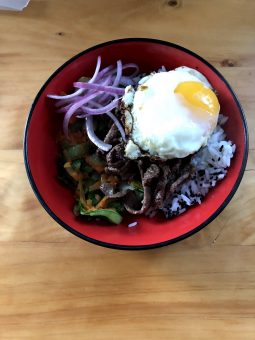 We had five fantastically tasting meals that were all relatively easy to cook. On the recipe cards, you get an indication of how much time it takes to create a meal, this ranges from just 15 minutes to 45 minutes. Some of the timings were a little off in our opinion, I am not the fastest vegetable chopper and our oven is not the best so you do have to take these things into account when cooking the meal especially if it is your first time. 
What we loved:
Hands down we loved how fresh the ingredients were, we also loved how quick and easy it was to unpack the items into our fridge.
It was nice to finally find ourselves getting excited by what we were cooking. Often in our household, the whole 'whats for dinner' debate grates on us, by going with HelloFresh we were ensured that the decision of what to have for dinner was made easy for us. We found the meals very well balanced and wholesome, the portions were a good size, we even had enough for lunch the following day!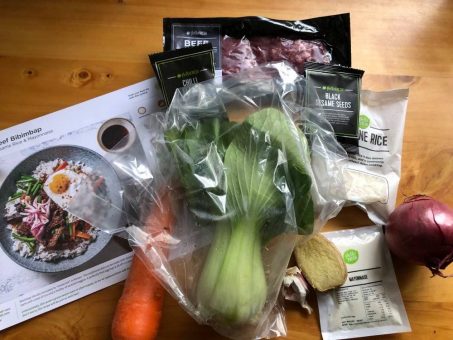 The anticipation of the box arriving and the presentation of the food certainly made weekday cooking exciting. The downfall is that they don't offer a 7-day meal plan, however, I think the idea of this is that people generally eat out or have a lazy 'Beans of Toast' type of meal once or twice a week – I know we certainly do!
How much does HelloFresh cost?
HelloFresh's prices start from around $95 (3 nights, 2 person option) to $167 which is for the family-friendly plan (ideal for 4 people) which I believe is a reasonable price considering the benefits you get from it. You might find their website a little confusing as HelloFresh do price their plans per serving (per person) and then advertise the delivery fee. This does mean you have to grab your calculator to find out your weekly cost – but this is something you can easily double-check at check out.
To make it cheaper for you, if you use my discount code on the link below you can get a massive $120 off your first four HelloFresh boxes (remember you can pause or skip any week you like) just click on this link to sign up. I found the sign-up process the quickest of all the meal kit delivery services we have tried. 
In summary, HelloFresh has made mid-week cooking a breeze in our household, we actually found ourselves cooking together some nights, making it more of an enjoyable event than a chore, and isn't that what food is all about at the end of the day? Bringing people together? And that in our opinion is what makes HelloFresh worthwhile!
Thanks for reading guys! We have tried other meal kits in NZ, to find out more check out this post here!